Successfully Handling the Covid-19 Pandemic, Coordinating Minister for Airlangga Reveals a Number of Government Strategic Policies
By : Nata Kesuma | Monday, February 13 2023 - 10:00 IWST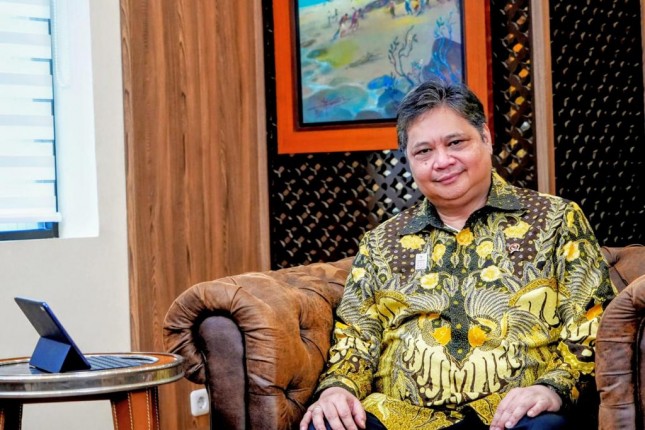 Source ekon.go.id
INDUSTRY.co.id - The success of handling the Covid-19 pandemic in Indonesia was due to efforts and coordination with the Government and all levels of society.
The government itself has taken various strategic steps such as implementing PPKM, forming the Committee for Handling Covid-19 and National Economic Recovery (KPC-PEN), vaccination, and social assistance such as the Pre-Employment Card Program.
"This begins with changing the mechanism for the APBN, through the Perpu. Well, this Perpu has become a game changer . Because during the pandemic, the Perpu was used, it was used to handle the State Budget in a flexible but accountable manner," said Coordinating Minister for the Economy Airlangga Hartarto in an interview with Kumparan at the Office of the Coordinating Ministry for Economic Affairs, Friday (10/02).
Through KPC-PEN, the Government has responded quickly to the extraordinary events of the Covid-19 pandemic by taking "gas and brake" policy steps by integrating the Health Handling dimension with the National Economic Recovery dimension.
With regard to vaccine procurement, given the limited supply of vaccines at the global level, the Government is trying to obtain vaccines through two mechanisms, namely a diplomatic approach and domestic vaccine development. President Joko Widodo also gave directions to protect the public through the implementation of an effective Covid-19 vaccination.
"The procurement of the vaccine certainly depends on what is available in the world. If we talk about November, not a single pharmaceutical factory has stated that it has a vaccine, but they are ready for production. In the end, we adopted a policy that was fast at that time, namely conducting a clinical trial in Indonesia specifically for Sinovac," said the Coordinating Minister for Airlangga.
The Government's target to achieve herd immunity by achieving 70% of the population's vaccination target in one year has been well fulfilled. This is reflected in the achievement of the first dose of 197.1 million, the second dose of 160.8 million, and the third dose of 24.1 million as of March 2022.
Furthermore, on this occasion the Coordinating Minister for Airlangga also explained that the Pre-Employment Card Program, which was originally created to provide training and improve community capabilities, became one of the social assistance programs during the Covid-19 pandemic.
The Pre-Employment Card program, which was launched one day after the establishment of the PSBB in 2022, is a challenge for how to convey the new program to the community and at the same time turn it into semi-social assistance.
"This program was launched and the President asked for it in April. Continue to build like we build a start up . Thank God , now more than 90 million have been successfully accessed in 514 Regencies/Cities and until the last wave there were around 16 million people who have received benefits from this program," concluded the Coordinating Minister for Airlangga.