President Jokowi Appreciates the Support of the Malay-Banjar Community for the Development of IKN
By : M. Shaqeel | Saturday, March 18 2023 - 13:08 IWST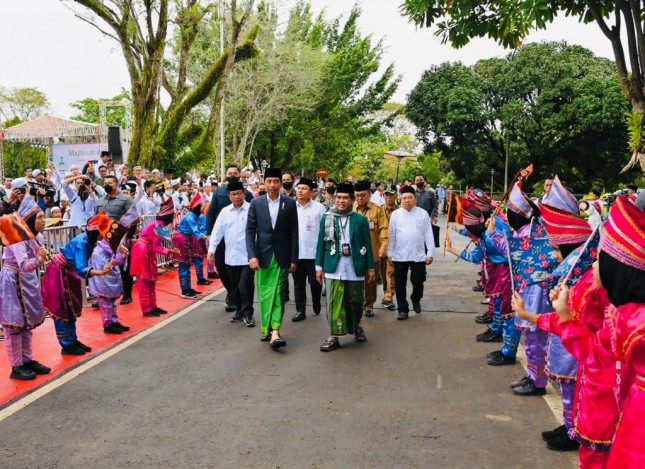 President Jokowi attended the Istigasah and Joint Prayer of Rabithah Melayu-Banjar, Friday (17/03/2023), at the Tabalong Shining Pendopo Complex, Tabalong, South Kalimantan. (Photo: BPMI Setpres/Laily Rachev)
INDUSTRY co.id - RI President Joko Widodo (Jokowi) expressed his appreciation for the support given by the Malay-Banjar community for the development of the Archipelago Capital City (IKN) in East Kalimantan.
The President also hopes that the Malay-Banjar community can continue to play an active role in the development of the IKN.
This was conveyed by the President while attending the Istigasah and Joint Prayer of Rabithah Melayu-Banjar, Friday (17/03/2023), at the Tabalong Shining Pendopo Complex, Tabalong, South Kalimantan (South Kalimantan).
"I hope that the Malay-Banjar community will become hosts in their own land, play an active role and become an important part of the history of the establishment of the Archipelago's Capital," said the President.
The President said that moving the capital city was an effort to achieve Indonesia-centric development while at the same time encouraging economic equity.
"This is to realize what is called social justice for all Indonesian people," he said.
In addition, the President explained that the development of IKN was not only carried out by the government to move physical buildings and build new buildings, but also to foster new ways of working and mindsets in serving the community and competing with other countries' human resources (HR).
&quot New ways of working, serving quickly, serving well, and we also want the second to change the mindset so we can compete with other countries," said the President.
The President said that currently there is tough competition between countries, therefore a better and more beneficial mindset and way of working is needed in the future.
"So these young people must be willing to change, willing to work hard because all of you will later compete with human resources from other countries," said the President.
Closing his remarks, the Head of State invited the entire community to pray, make efforts, and work hard together in realizing the development of the IKN as a gateway to accelerated development on the island of Kalimantan. The president wants the idea of ​​moving the capital city to Kalimantan, which has existed since the 1960s, to be realized soon.
"Also asking for the pleasure of Allah SWT. so that they always guide and facilitate our steps, and to the religious scholars, gentlemen teachers, and the pilots, the clerics, as well as the entire Malay-Banjar community, please pray for this nation," he said.