Jababeka Boss Glances at Ende Flores Tourism Potential
By : Ahmad Fadli And Aldi Firhand. A | Tuesday, August 29 2017 - 22:03 IWST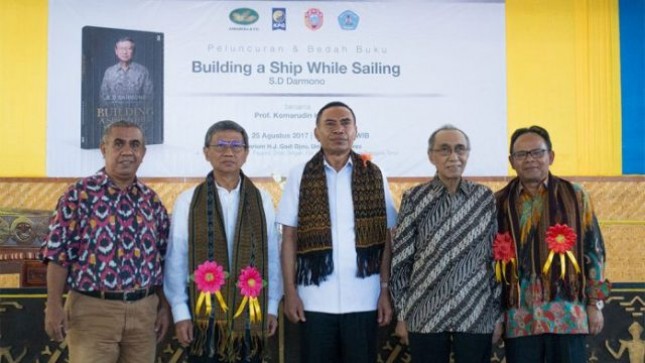 Photo: Chairman of the Foundation of the University of Flores, Lori Gadi Djou - Founder and Chairman of PT Jababeka, S.D Darmono - Vice Regent Ende Djafar Achmad - Rector of Flores University, Stefanus - Academician, Komaruddin Hidayat (Dok: TPP)
INDUSTRY.co.id - Jakarta - Chairman of PT Jababeka Tbk Darmono S declared his intention to build a new city in Ende, Flores. Development of the city begins from the increase of tourism industry there. It was expressed in the launch of his book "Building A Ship While Sailing" at the University of Flores, Ende, Flores, Friday (25/8).
"The Ministry of Education should require high school children to come here and be submitted to the curriculum. Assuming a million children come here every year, the plane can be more and more affordable so that more tourists come to Ende, "he said.
Darmono also explained that regional competitiveness can be improved if the regional regulations here are more interesting than Java island.
"For example, in Jakarta it is very difficult to make an alcohol factory, but if it is possible, then Ende can export the alcohol to Japan, Korea and Europe, not for domestic consumption. This is just one example if competitiveness can be improved through regulation, "he said
On the day of his book launch, in front of more than 200 people consisting of students from the University of Flores, entrepreneurs and SKPD, Darmono also conveyed the potential of Ende and Flores as a whole. Do not forget to convey the importance of existing Ende capital is the city of the birth of Pancasila.
Darmono also reminded that the first time we dare to fight the invaders only capitalize bamboo spikes with no capital and few clever people, but why now more and more capital and smart people are afraid to move ?.
"That's why this book is present, how can we continue to build a ship while sailing. Because the challenge will continue to be present but we still have to prosper many of our brothers through the development of new cities in Indonesia, "he said.
Many audiences who felt the title could not be done, that is while building boats but also sailing.
Darmono then explained, "In fact we together with a small boat to escort the big ship that is being built, in the middle of the road we will meet with other ships and we can ask for help to help build the big ship." Darmono
In the event was also signed MoU by Darmono as founder of PT Jababeka and President University with the Rector of the University of Flores and District Government Ende represented by Vice Regent Djaar Achmad. Ended with book signing by Darmono and Komaruddin Hidayat.