Pelindo IV put Investment of Rp85 Billion Bring 5 RTG Units in Jayapura and Ambon
By : Hariyanto And Aldi Firhand. A | Monday, December 11 2017 - 18:05 IWST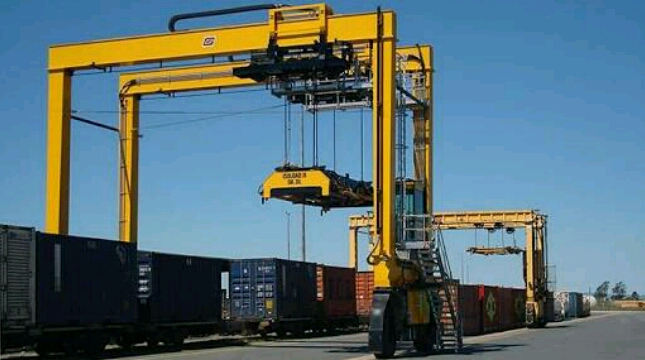 Rubber Tyred Gantry (ist)
INDUSTRY.co.id - Jakarta - Toward the coming of new year, PT Pelabuhan Indonesia IV (Persero) once again invested a total of Rp85 billion by bringing in 5 units of Rubber Tyred Gantry (RTG) for the Port of Jayapura and Ambon Harbor.
President Director of PT Pelindo IV, Doso Agung, said that 5 container loading and unloading equipment units have arrived at Jayapura Port on Thursday night (December 7, 2017), transported by MMS Hansa Heavy Lift (HHL) New York with Barbados and Antigua.
"The arrival of these 5 RTG units to support the activities in the port under the management of Pelindo IV where 2 units of RTG will be placed in Jayapura Port and 3 units for the Port of Ambon," Doso said in an official statement on Sunday (10/12/2017 ).
Director of Facilities and Equipment of PT Pelindo IV, Farid Padang added, the newly arrived RTG lift capacity is SWL 40 ton with high stacking 5 + 1 and span 23,47 meter or 6 row + 1 (truck line). It is hoped that, with a fairly fast work from the new RTG, can support the productivity target of loading and unloading of goods in the 2 ports.
Particularly at the Port of Jayapura obviously, now has available equipment that is 2 units container crane, 2 units RTG, 4 head truck, 2 tronton, 2 reachstacker, 1 forklift 7 tons, 1 Mobile Crane, 1 Anggada ship IX 2x1.000 hp, 1 speed boat 2x40 hp and 10 reefer plugging.
With the arrival of two new RTG units at the last port in Eastern Indonesia (KTI), the total RTG owned by Jayapura Port is 4 units.
For the Port of Ambon, the plan of 3 new RTG units will arrive on December 13, 2017. "It is planned that the 5 units of RTG can be used before New Year 2018," said Farid.
Currently, the progress of the installation work of two new RTG units in Jayapura Port conducted by contractor company Dinson Industries Corporation - China, has reached 90.50%.
Upon arrival at the Port of Jayapura, the arrival of the new RTG was witnessed by Pelindo IV Management of Jayapura Branch, PMO of Equipment, the Dinson Industries Corporation of China, the Jayapura Port Health Quarantine, Jayapura Port of Jayapura, TKBM shipping and the security of Port of Jayapura and Supervisory Consultant of Procurement in Jayapura.