PT Pusri Improves Plant Efficiency Increases Competitiveness
By : Herry Barus And Aldi Firhand. A | Sunday, December 24 2017 - 09:05 IWST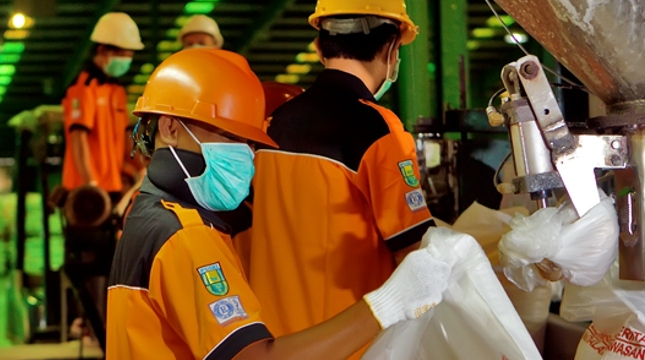 Pupuk Sriwijaya. (Foto: IST)
INDUSTRY.co.id - Palembang - PT Pupuk Sriwidjaja (Pusri) Palembang focus to boost the efficiency of a number of factories to improve product competitiveness in the midst of high competition.
President Director of PT Pusri Mulyono Prawiro in Palembang on Saturday (23/12/2017) said his company has completed the construction of Pusri II B Factory and has closed the operation of Pusri II factory which is old and wasteful.
"In the future, the company will plan the restructuring of Pusri III and Pusri IV plants and this is the initial planning stage," Mulyono said after the Pusri Anniversary.
He said the Pusri II B factory proved to be more efficient in fuel use so the company managed to increase the production of urea fertilizer by 10 percent.
This is in accordance with the policy flow of Pupuk Indonesia Holding which encourages Pusri to produce fertilizer products that are cheap but still qualified in terms of increasing competitiveness.
As is known today, Pusri still struggling on the expensive issue of gas purchases that is still six US dollars per MMBTU. On the other hand, as China buys gas at a price of only four US dollars per MMBTU.
Another challenge, urea fertilizer production in the international market also exceeds demand so that opportunities to expand into overseas markets also become small.
Therefore, in addition to fuel efficiency by combining through the use of coal, Pusri also boosting product innovation, especially chemical derivatives from urea and that is not less important also penetrated the NPK fertilizer business by having established the factory that is NPK Fusion I Factory and NPK Fusion II Factory which when this is in progress.
"To market this NPK product, Pusri will sell to plantation farmers such as coffee, rubber and palm in South Sumatra," he said as quoted by Antara.
Pusri previously successfully built NPK Fusion I factory by producing 100 tons of fertilizer per year, now Pusri build NPK Fusion II is targeted to be completed in 2019.
The red plate company is targeting the NPK fertilizer business due to the high use of compound fertilizer demand in line with the government's food security program.
In addition, NPK fertilizer business is in line with the vision of the company's mission to become a fertilizer factory competitive high and sustainable. As is known, the factory is built adjacent to the factory Pusri 2B using the latest technology.
Pusri also must see the opportunity of market expansion considering this NPK product can also used oil palm and rubber plantation because in 2021 it is estimated Pupuk Indonesia will produce about 6 million ton NPK. While currently only reaches 3.4 million tons.