PT Pusri Distributes 1.3 Million Tons of Subsidized Fertilizer
By : Hariyanto And Aldi Firhand. A | Friday, January 26 2018 - 22:09 IWST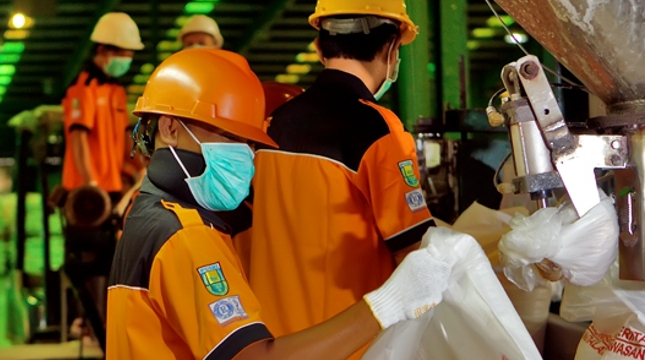 Pupuk Sriwijaya
INDUSTRY.co.id - Palembang - PT Pupuk Sriwidjaja (Pusri) Palembang noted that it has distributed subsidized fertilizer of 1.3 million tons of urea throughout 2017 or in accordance with the allocation set by the government.
President Director of PT Pusri Palembang Mulyono Prawiro in Palembang on Thursday (25/1/2018) said that the distribution of subsidized fertilizer is spread throughout the company's marketing areas including Sumsel, Jambi, Lampung, Kalimantan and Central Java.
"In South Sumatera, the distribution of urea reaches 170,000 tons, where much of it is absorbed in East Ogan Komering Ulu (OKU) Regency which is the center of rice farming," he said.
He added that the company has also distributed NPK fertilizers to support agriculture in the country. Even the realization of disbursements recorded has exceeded the allocation due to the high market demand.
"Initially the allocation of NPK as much as 80,000 tons but added 5000 tons again so that the realization reached 85,000 tons," he told the media crew.
PT Pusri Palembang for 58 years has contributed and supported the government in food security program.
According to him, at the end of 2017 the company has also realized one of the strategic projects, namely the construction of NPK Fusion II factory with a design capacity of 2x100,000 tons per year.
Pusri previously successfully built NPK Fusion I factory by producing 100 tons of fertilizer per year, now Pusri build NPK Fusion II is targeted to be completed in 2019.
The red plate company is targeting the NPK fertilizer business due to the high use of compound fertilizer demand in line with the government's food security program.
In addition, NPK fertilizer business is in line with the vision of the company's mission to become a fertilizer factory competitive high and sustainable. As is known, the factory is built adjacent to the factory Pusri 2B using the latest technology.
Pusri also must see the opportunity of market expansion considering this NPK product can also used oil palm and rubber plantation because in 2021 it is estimated Pupuk Indonesia will produce about 6 million ton NPK. While currently only reaches 3.4 million tons.