BEKRAF Habibie Festival is a Benchmark for Indonesian Technology Development
By : Herry Barus And Aldi Firhand. A | Tuesday, August 08 2017 - 14:04 IWST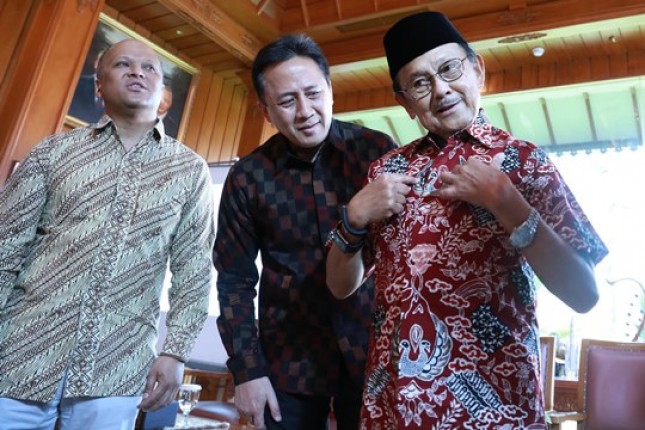 Head of BEKRAF Triawan Munaf Together with BJ Habibie and Ilham Habibie
INDUSTRY.co.id - Jakarta- BEKRAF Habibie Festival officially opened for public on August 7-13, 2017 showcased innovation and technology work produced by Indonesia from 100 companies and science and technology community (IPTEK).
Head of Creative Economy Agency (BEKRAF) Triawan Munaf expressed his commitment to make Habibie Festival as a benchmark of Indonesian technology and its utilization for the country.
"In the future, this event should be a forum for Indonesian technology so that people can measure up to where our technology is and how it is utilized for the country," said Triawan at the opening of BEKRAF Habibie Festival At JI Expo Kemayoran Jakarta, Monday (7/8/2017)
He explains all the products featured in this festival is needed for the creative industry to get into the market. This event according to him also can connect between market and industry players.
On the same occasion, the Founder and Chairman of the Indonesian Working Movement Ilham Akbar Habibie said Habibie Festival has been held since last year at the National Museum in order to commemorate the 80th anniversary of Indonesia's 3rd President B.J Habibie.
"Last year we presented Dad's contribution during his lifetime, what's in Indonesia, if this year, the product is generally both related to you or not," Ilham told the media crew.
Habibie Festival which in the previous year was able to attract 56,000 visitors, this year is targeted to gained up to 100 thousand visitors.
Habibie Festival is a celebration of the role and contribution of Bacharuddin Jusuf Habibie as a figure of national figure, father of the nation, community mentor, and icon of science and technology (IPTEK) in Indonesia. This festival is also a place for science and technology industry to introduce their innovative products to the public.
The holding of this year's Habibie Festival entitled "Technology and Innovation for People" See, Touch, and Feel the New Technology for a Better Future that is attended by over 100 companies and communities in science and technology.
The daily themes of this festival include Connectivity, Mobile Life, Innovation Nation, Women in Tech, Makers Land, and STEAM (Science, Technology, Engineering, Arts, Mathematics).
Visitors are free of charge to enter this festival and can see various exhibitions such as CN-250 cockpit exhibition collection from PT Dirgantara Indonesia, PT Pindad heavy equipment collectors, high-tech ambulance vehicles belonging to RS Siloam, and various innovations "food truck" .