The song "Yamko Rambe Yamko" Welcomes the President's Arrival at PYCH
By : M. Shaqeel | Wednesday, March 22 2023 - 10:40 IWST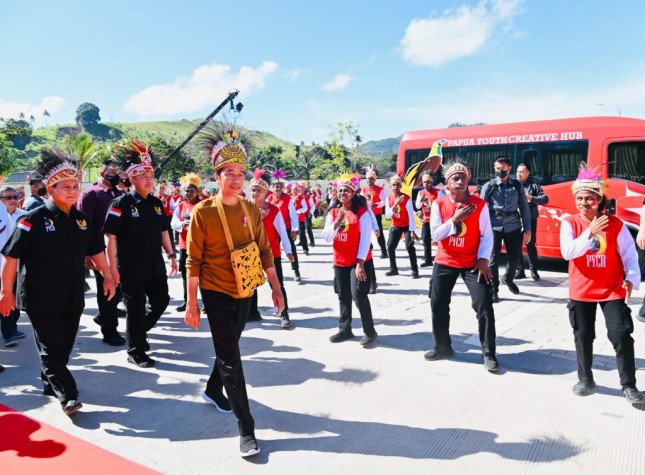 President Jokowi visited PYCH, in Jayapura City, Papua Province, Tuesday (21/03/2023). (Photo: BPMI Setpres/Laily Rachev)
INDUSTRY.co.id - Starting the second day of his visit to Papua Province, Indonesian President Joko Widodo (Jokowi) visited the Papua Youth Creative Hub (PYCH), Jayapura City, on Tuesday (21/03/2023).
Accompanying the arrival of the President's vehicles, a number of school children were seen standing in line waving the red and white flag.
"Pak Jokowi, Pak Jokowi," they shouted.
Arriving at around 08.40 WIT, President Jokowi's arrival was greeted with the Imbo Cone dance. In addition, the President also received a noken necklace and a cassowary feather crown.
Along the road leading to the PYCH building, a number of Papuan youths who were members of PYCH were seen singing together the folk song "Yamko Rambe Yamko" while dancing to welcome President Jokowi.
Afterwards, the President inspected a number of booths displaying a number of products produced by Papuan youths who are members of PYCH.
Feri Yaot, one of the young Papuans whose booth the President visited, said that he was happy to see the President give a good response to the products he produced.
"(The president) is very happy, happy, and we also see him happy," Ferry said.
Apart from that, Feri also said that when the President and a number of ministers approached his booth, they bought some of the T-shirts he had produced.
"There are gentlemen (ministers) who shop at our place here. The group with Mr. President, Mr. Prabowo also bought, "said Ferry.
Accompanying the President were Minister of Defense Prabowo Subianto, Minister of Investment/Head of BKPM Bahlil Lahadalia, Chief of Presidential Staff Moeldoko, Head of State Intelligence Agency Budi Gunawan, and Plh. Governor of Papua Muhammad Ridwan Ruusukun.
Apart from that, the TNI Commander, Admiral Yudo Margono, the Indonesian National Police Chief, General Police Listyo Sigit Prabowo, and a number of ministers from the Indonesia Onward Cabinet were also present.