Indonesia-Türkiye will continue to work together to help Palestine
By : Nata Kesuma | Monday, November 13 2023 - 13:00 IWST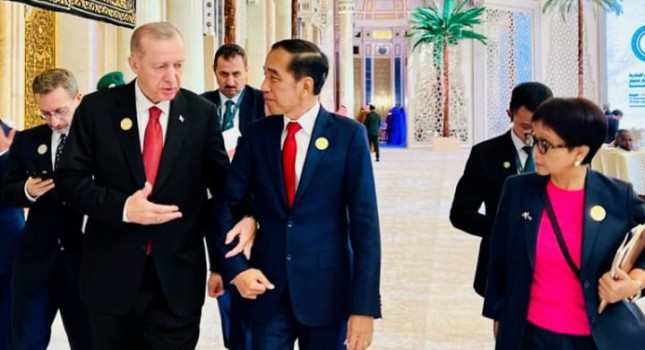 President Jokowi accompanied by Foreign Minister Retno Marsudi met with Turkish President Recep Tayyip Erdogan on the sidelines of the OIC Extraordinary Summit, at KAICC, (Photo: BPMI Presidential Secretariat)
INDUSTRY co.id - Indonesian President Joko Widodo (Jokowi) held a bilateral meeting with the President of Turkey, Recep Tayyip Erdogan, on the sidelines of the Extraordinary High Level Conference (Summit) of the Organization of Islamic Cooperation (OIC).
During the meeting, the two Presidents agreed that they would continue to work together to resolve the Gaza problem, continue to support the struggle of the Palestinian people, including in realizing Palestinian independence.
"As well as reminding the world to resolve the root of the problem, namely Palestinian independence based on a two-state solution," said President Jokowi at the King Abdulaziz International Convention Center (KAICC), Riyadh, Saudi Arabia, Saturday (11/11/2023).
Apart from that, President Jokowi emphasized that the OIC must be united and at the forefront. The OIC must urge an immediate ceasefire, calling for the start of a humanitarian pause.
&quot And ensure access to humanitarian aid that is safe, predictable, sustainable, and reaches all citizens," he added.
Furthermore, President Jokowi emphasized that Indonesia will use all channels to voice justice and humanity for the Palestinian people, including the UN General Assembly, Human Rights Council and the International Criminal Court.
The two leaders also said that Turkey and Indonesia were active in continuing to try to contribute to resolving the problems in Gaza. Apart from that, the two leaders also discussed strengthening bilateral cooperation and agreed to intensify negotiations on the Indonesia-Turkey Comprehensive Economic Partnership Agreement (IT-CEPA) so that it can be completed in 2024.
Also accompanying President Jokowi at the meeting was Minister of Foreign Affairs (Menlu) Retno LP Marsudi. (BPMI SETPRES/UN)