Improve Services, CDP Add Frequency Freight Container Trucks
By : Ahmad Fadli And Aldi Firhand. A | Thursday, August 24 2017 - 13:10 IWST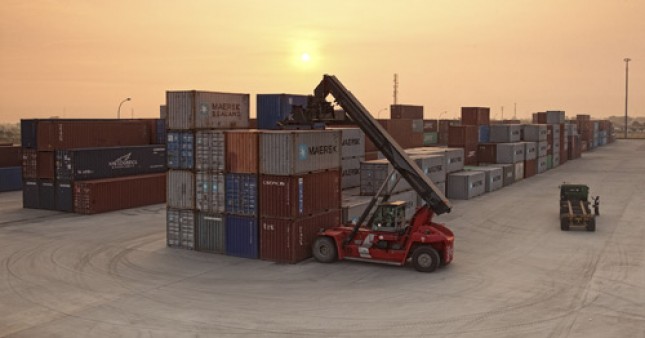 Cikarang Dry Port (images CDP for INDUSTRY.co.id)
INDUSTRY.co.id - Cikarang Dry Port (CDP), a land port managed by PT Cikarang Inland Port, enhances domestic services to support the smoothness of the national logistics system, by increasing the frequency of freight trains to Surabaya.
The container freight train schedule from Cikarang Dry Port to Surabaya is increased to 60 times per month. On one trip, the container carriage carries 30 carriages or 60 TEUs (20 ft. Container equivalent units).
To support carriage operations, CDP has increased the capacity of the freight railway or freight train station in the land port. Previously only enough for the train along the 20 carriages so it must be disconnected and shading at the time of loading and unloading. Now after the expansion, the length is enough for 30 cars at once.
With 3 tracks available, 2 railways can do unloading together and one track for the shading. "Currently 5 train operators have been operating in Cikarang Dry Port, connecting our land ports to Surabaya and also Tanjung Priok Port. Volume also continues to increase along with the increase of operators and also the frequency of service, "said Benny Woenardi, Managing Director of Cikarang Dry Port, Thursday (24/8).
Furthermore, Benny said that currently CDP in cooperation with national shipping is developing domestic multimodal services. The containers departing from CDP to Surabaya are transported by train, followed by the services of national shipping to various ports of destination in eastern Indonesia.
On the contrary from Surabaya to Tanjung Priok then continued by shipping services to various port destinations in western Indonesia.
"With this domestic multimodal service, railway in Java Island can be a bridge between western and eastern Indonesia. Currently there are regular schedules Cikarang - Benoa and Cikarang - Mataram via Surabaya, and Surabaya - Cikarang - Batam. Other destinations that have been served are Kupang and also Manokwari. This domestic train and multimodal service will support the industry in the supply of domestic raw materials and distribution, as well as the absorption of raw materials and export needs from eastern Indonesia without adding road loads and congestion, "Benny said.