President Jokowi Witnesses Handover of Indonesian Air Force Super Hercules Aircraft
By : Nata Kesuma | Wednesday, March 08 2023 - 21:25 IWST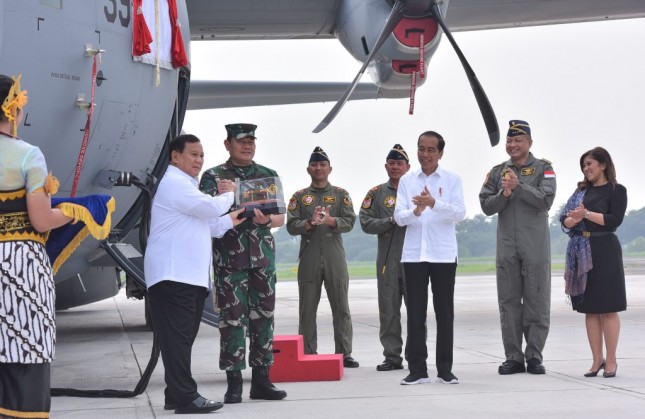 President Jokowi witnessed the handover of C-130J-30 Super Hercules A-1339 and A-1315 aircraft, at Halim Perdanakusuma Air Force Base, Jakarta, Wednesday (08/03/2023). (Photo: Public Relations of Setkab/Jay)
INDUSTRY.co.id - Indonesian President Joko Widodo (Jokowi) directly witnessed the handover of the C-130J-30 Super Hercules A-1339 and C-130H A-1315 aircraft by the Minister of Defense (Menhan) Prabowo Subianto to TNI Commander Admiral Yudo Margono.
The handover was held at the Halim Perdanakusuma Air Force Base, Jakarta, Wednesday (08/03/2023).
President Joko Widodo delivered. This Super Hercules aircraft is a very sophisticated aircraft and can be used to transport troops and cargo weighing up to 19.9 tons.
"This is the C-130-J-30 Super Hercules aircraft we received this morning. This is a very sophisticated aircraft, I have already entered it, it has been explained that it can transport if troops are equipped with parachutes—meaning parachutists—it can carry 98, but if only troops are not parachutists it can carry 128 troops, and can carry 19.9 tons. " said the President after the handover ceremony.
With this large carrying capacity, the President said that the Super Hercules aircraft was good for various types of operations. In addition, the aircraft also has the ability to fly for a long time so that it can be used to reach all parts of Indonesia.
"This is good for military and non-military operations, it can also be used for natural disasters. It can reach all parts of Indonesia because this Super Hercules plane can fly 11 hours," he said.
The Super Hercules aircraft received this morning is one of five aircraft that have been ordered by the government. The other four aircraft will be received in June, July and October 2023 and January 2024.
"What we ordered were five, the Minister of Defense said earlier, today one will come, one more will be added later in June, one more will be added in July, one will be added in October, one will be added in January next year. Five planes will come to our country," he said.
With the addition of these aircraft, President Jokowi said that the government continues to strive to meet Indonesia's minimum essential forces .
"Yes, everything is adjusted to the budget we have. But we want to try to fulfill it, "he said.
On the same occasion, Defense Minister Prabowo Subianto said that all repair activities for the Super Hercules aircraft would be carried out in Indonesia. This includes major repairs and overhauls such as center wing box replacement .
"The MRO, maintenance repair overhaul will be carried out in Indonesia. As this second aircraft has been implemented in all of Indonesia. This includes a heavy overhaul , replacing the center wing box is very difficult, this is the first time we have done it in Indonesia," said Prabowo.
Also present at the event were the Air Force Chief of Staff (KSAU) Marshal TNI Fadjar Prasetyo, Chairman of Commission I of the Indonesian Parliament Meutya Hafid, and the United States Ambassador to Indonesia Sung Yong Kim.