President Jokowi Welcomes the Formation of the ASEAN Caucus in the APEC Business Advisory Council
By : M.shaqeel | Thursday, November 16 2023 - 13:05 IWST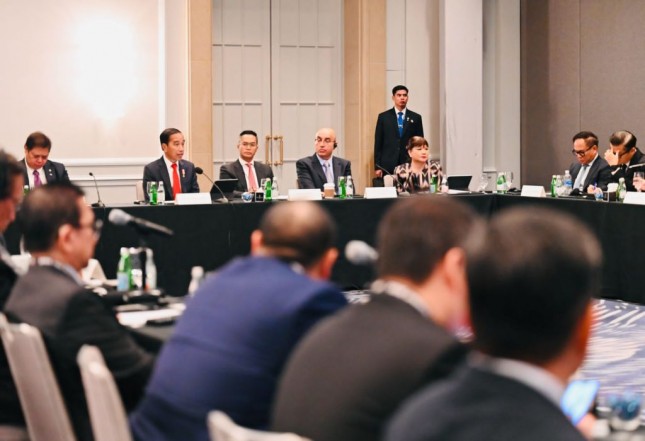 President Jokowi at the ABAC ASEAN Caucus Day event, at the Four Seasons Hotel, San Francisco, USA, Wednesday (15/11/2023). (Photo: BPMI Presidential Secretariat)
INDUSTRY co.id - Indonesian President Joko Widodo (Jokowi) said that ASEAN is a strategic region that has strong capital to become the center of world growth.
ASEAN also has a number of strengths that are important assets, such as economic growth above the world average and a large young demographic.
"And regional stability is always maintained, this is also a strength. "This is an important asset that allows ASEAN's voice to be heard louder in various forums including APEC," said the President in his remarks at the ABAC ASEAN Caucus Day event which was held at the Four Seasons Hotel, San Francisco, United States (US), Wednesday (15/11 /2023).
For this reason, the President also welcomed the formation of the ASEAN Caucus to strengthen ASEAN's centrality in the APEC Business Advisory Council.
"I hope that through this forum the government and business partnership can become more synergistic," he added.
On this occasion, the President also expressed his views on a number of areas that could become the focus of the ASEAN Caucus. Firstly, in terms of accelerating the energy transition, ASEAN has agreed to become a global hub for the electric vehicle industry.
"The ASEAN Caucus can be an important part of strengthening this initiative. "On the other hand, the energy transition also requires investment support, technology support, where the Indo-Pacific Impact Fund initiative can have a significant role," he said.
Apart from that, another important focus is on achieving carbon neutrality. The President said that the economy must continue to develop in line with ASEAN's commitment to protecting the environment.
&ldquo ASEAN has also agreed on a strategy for carbon neutrality&nbsp . &quot Indonesia is also targeting net zero by 2060, where achieving this target requires concrete cooperation, especially in the government and business sectors, which can be bridged by the ASEAN Caucus," he continued.
Finally, the Head of State encouraged the active role of the ASEAN Caucus in supporting ASEAN's commitment to accelerate the implementation of border digital payments through cooperation with financial institutions.
"I am sure the ASEAN caucus can play a role in this initiative," he said. (BPMI SETPRES/UN)