Trans Property Do Ground Breaking Transpark @Juanda Bekasi
By : Hariyanto And Aldi Firhand. A | Friday, November 03 2017 - 14:43 IWST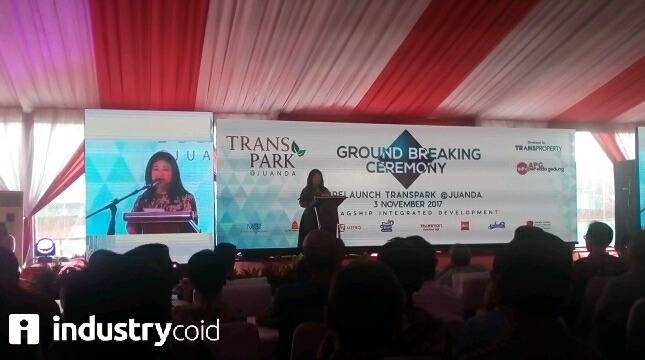 Prita Kemal Gani, MBA, MCIPR, APR as Founder and Director of STIKOM The London School of Public Relations
INDUSTRY.co.id - Bekasi - Millenial generation that has a fast-paced, practical and instant lifestyle takes an important role in moving the national economy.
This affects the change of interest in the selection of public housing from the landed house to the apartment because it is considered to have a lifestyle value that supports with more complete facilities. In addition, the apartment is also considered to provide adequate comfort.
Seeing that, Trans Property presents a solution to meet the needs of the community. After successfully selling 2.000 Transpark @ Cibubur apartment units in 2016 within six months, in 2017, Trans Property again build an apartment that combines residential and lifestyle facilities such as hotels, malls and theme park in Juanda area, Bekasi.
Transpark @ Juanda - Bekasi conducts Ground Breaking Ceremony today, Friday (03/11/2017), signing MOU with one of the best communication science schools, The London School of Public Relations which occupies one of the 7,000-capacity tower students as well as the opening of sales Tower Jade which is the first tower in Apartment Transpark Juanda.
Transpark @ Juanda - Bekasi will integrate five apartment towers with a total of 5,000 units, Office Tower, Hotel with 200 rooms, Transmart Mall, Theme Park, Eco Park, the first Private Water Park in Indonesia as well as Trans Studio Snow Town which will become the largest Snow Town in Indonesia.
"Special campus LSPR Transpark @ Juanda - Bekasi this, We will also open a new department that is needed by the industry today is Hospitality Communication and MICE, Entrepreneurship and Business Communication and Mass Media Communication. For Mass Media Communication has several concentrations of Broadcast Journalism which is a collaboration with Salford University in Manchester and Digital Film Making and
Photography Communication "said Prita Kemal Gani, MBA, MCIPR, APR as Founder and Director of STIKOM The London School of Public Relations in Bekasi, Friday (3/11/2017).
Transpark @ Juanda - Bekasi has a location and accessibility that will facilitate its residents because it has a distance of 100 M from Bekasi Timur KRL Station, 10 minutes from East Bekasi LRT Station and 10 minutes from Exit Toll Bekasi Barat or 5 minutes from Exit Toll Bekasi Timur.
Not only convenient, Transpark @ Juanda - Bekasi can also be used as an investment due to increased land prices in the last 2 years.
This is because the number of infrastructure projects built by the government such as KRL Bekasi Timur Station which was inaugurated in October 2017, Becakayu Toll (Bekasi - Cakung - Kampung Melayu) which was inaugurated in November 2017, LRT Bekasi - Cawang which will be completed by 2019, and other projects that are running. TRANSPARK Juanda - Bekasi will open at a price of 290 million rupiah and 2.5 million installments per month.