NKRI Expedition Team Finds New Tribes in Papua
By : Herry Barus And Aldo Bella Putra | Friday, November 24 2017 - 18:00 IWST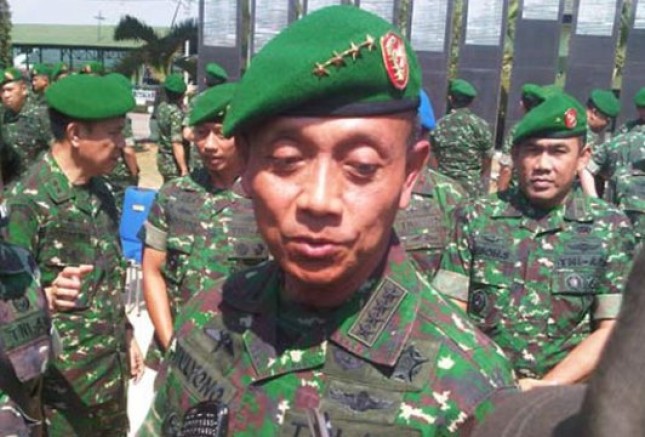 Jenderal TNI Mulyono Kepala Staf Angkatan Darat (Foto Ist)
INDUSTRY.co.id - Jakarta - TNI Army Chief of Staff (Mulyono) Mulyono revealed expedition team NKRI Corridor Papua Southern Part 2017 find new tribe in Papua Province, which is Digi tribe which is in mountainous region Bintang.
"One of the outstanding things produced by the Expedition Team is the discovery of the Digi People's Settlement location, they are not familiar with the Indonesian language, the Rupiah currency and the government of the Republic of Indonesia," Kasad said in his speech at the closing of the NKRI Expedition of South Papua Corridor 2017 through a military ceremony at Mako Kopassus Square, Cijantung. East Jakarta, Friday (24/11/2017)
That, Mulyono said, is of mutual concern and hopes that this finding will be a very meaningful input to the government, as it turns out what the government's priority to build Indonesia from the periphery is very relevant to the findings of the expedition team in 2017.
The Digi tribe, which is only 15 heads of families (KK), is located directly adjacent to Papua New Guinea (PNG).
This four-star general asks the local Korem Commander or at least a border post near the Digi Tribal Village to approach them, coaching and conveying the Indonesians and national insights.
"Transportation there is very difficult, no vehicles can enter, which can only travel there by air," Kasad said.
Going forward, he added, will gradually be given input to local and central government to touch the tribe. Because they are our brothers and sisters of water, he said.
He also received reports that, this Expedition has carried out exploration of forest, mountain, swamp, sea, river, beach and exploration areas in the RI-PNG border along the 2,940 km.
The expedition team, according to Kasad, obtained various data including the discovery of 896 species of flora, 1,090 new fauna species, 316 degraded area data, 160 geological data, 206 potential disaster data and 754 socio-cultural related data and mining potential.
During the expedition, the team also conducted Community Service, through physical infrastructure development and various non-physical activities.
"These findings will be submitted to the Ministries and relevant agencies to follow up," he said.
In the year 2017, Expedition NKRI held in Southern part of Papua still carrying the same theme that is "Care Society and Conserve Nature Indonesia".
"Through this NKRI Expedition, it is hoped to foster a sense of love for the country, to raise awareness of the State and to gain national awareness, to awaken public awareness to preserve nature, and to improve access to communication, communication and economy so as to improve the welfare of the people," said the four-star general.
Expedition 2017 is the seventh expedition, previously held expedition in Bukit Barisan 2011, Equator 2012, Sulawesi 2013, Maluku and North Maluku 2014, Nusa Tenggara and Bali 2015 and West Papua 2016.
"The Expedition of NKRI of South Papua Corridor involves 1197 participants from central and regional level from various elements of the nation, from TNI, Police, Experts (Researchers), Students (Academics), Local Government and Communities," he said.
Army Chief of General Mulyono added that the Expedition of South Papua Corridor Corridor lasted for three months, starting August 3 to November 22, 2017.
The participants of Expedition NKRI were spread in 5 (Five) Subkorwil, namely SubkorwiI-1IAsmat in Asmat District, Subkorwil-Z / Mappi in Mappi Regency, Subkorwil-S / Merauke in Merauke Regency, SubkorwiM / Mindiptana in Boven Digoel Regency and sub- Red Land in Boven Digoel Regency.
The event was enlivened by Kopassus troopers, Yongmoodo martial art demo and Yospan dan Sajojo dance offerings continued to visit the exhibition of the findings of Expedition NKRI Corridor Papua Southern Part 2017. (Ant)