Held in Jakarta, India-ASEAN ICT Expo 2017 Improve India and ASEAN Relations
By : Hariyanto And Aldi Firhand. A | Wednesday, December 06 2017 - 15:36 IWST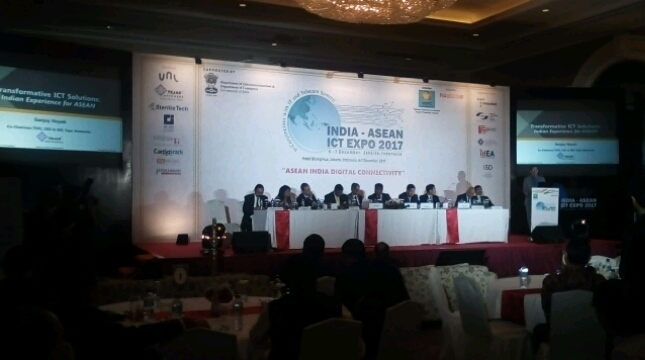 India-Asean ICT Expo 2017 (Hariyanto / INDUSTRY.co.id)
INDUSTRY.co.id - Jakarta - To strengthen relations and commitments between India and the ASEAN region, the Telecom Equipment & Services Export Promotion Council (TEPC), which is India's promotional and export telecommunications services council, held the India-ASEAN ICT Expo 2017 on December 6 and 7, 2017 at Hotel Shangri -La, Jakarta, Indonesia.
The grand tech conference at the end of this year has the support of the Ministry of Commerce, the Ministry of Transport, the Government of India, and NASSCOM. And a number of partners from leading local institutions such as MASTEL (Telecommunication Society), ISD (Indonesia Services Dialogue Council), FTII (Indonesian Information Technology Federation), ITF (Indonesia Technology Forum), IDEA (Indonesian E-commerce Association), and APJII (Association Internet Organizer Indonesia).
At this juncture, Manoj Sinha, India's Communications Minister leads the Indian ICT industry delegation also visiting Indonesia to attend the India-ASEAN ICT Expo 2017. In his speech, Manoj emphasized the importance of cooperation between these two regions to jointly build a strong digital ecosystem in Asia.
"We can work together to initiate digital connectivity initiatives in the region, ensuring that we can fulfill whatever is necessary, because Indian products and services can be the first choice for telecommunications needs in ASEAN," Manoj Sinha said.
He also informed that at the 13th ASEAN-India Summit in November 2015 Prime Minister Narendra Modi had committed a $ 1 billion Line of Credit to promote projects that support physical and digital connectivity between India and ASEAN.
Minister Manoj Sinha said the two sides have complementary skills, a huge market and the capacity to develop new technologies and products to serve the community.
Furthermore, he explains, India has proven its ability in the sector of ICT (information and communication technology). The country is also recognized as the preferred destination for telecommunication products and services with technology transfer of telecommunication products designed through R & D for the needs of developing countries.
With great domestic demand for telecommunication equipment in India, the company through innovation and R & D creates world-class products for India as well as other emerging markets.
In parallel, Indonesia will be a strategic and potential market for India. Because the country is rapidly developing internet bases and broadband connectivity, fast track mobility markets as well as e-Government and citizen-centrice projects. So it has a good demand for telecommunication projects.
Especially with the fact that Indonesia has been India's second largest trading partner in the ASEAN region. The bilateral trade between India and Indonesia reaches US $ 24.10 billion in 2015-2016.