For the Second Time in 40 Years, Snow Covered the Sahara Desert
By : Chodijah Febriyani And Aldi Firhand A | Wednesday, January 10 2018 - 18:30 IWST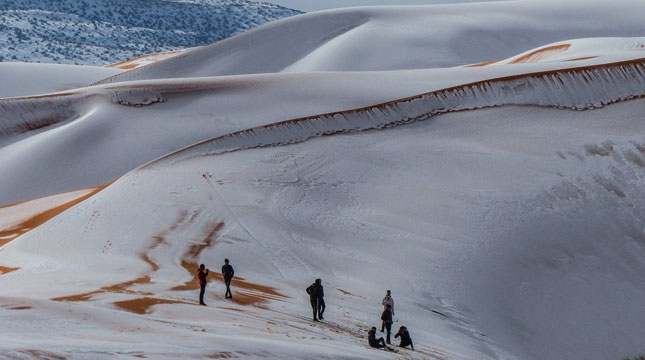 Sahara Desert blanketed Snow in Ain Sefra Town in Algeria, North Africa (Photo: Credit Sekkouri Kamel / Storyful)
INDUSTRY.co.id - Ain Sefra - On Sunday (7/1/2018) ago, a natural phenomenon occurred in a town in Ain Sefra in Algeria region, North Africa. Natural phenomenon that is in the form of snow falling as thick as 40 centimeter this covering small town in Algeria region.
Today, the notorious slopes of the deserted Saharan Desert are covered by snow that makes it look like an orange dune. This is because of the extreme weather that caused the Sahara Desert to be covered by snow. This phenomenon is quite surprising because the temperature at the time of snow down the middle reaches 37 degrees Celsius.
It snows around the town of Ain Sefra, about 760 kilometers south of the Algerian capital Algiers and snowed in the Sahara Desert at an altitude of more than 3,000 feet.
"In the Sahara, the problem is moisture, not temperature," said a geologist at Cologne University in Germany who has been studying the Sahara climate for years.
A spokeswoman for the local meteorological agency also said, "The cold weather was approaching North Africa over the weekend and as part of the high pressure in Europe."
The area known as the Gate to the Desert, two years ago had also occurred snow-covered and resulted in chaos because it stopped traffic and last year also happened snowfall.
And before, the city of Ain Sefra for the first time experienced snowfall for the last 37 years on February 18, 1979, and at that time the snow covered the desert about a half hour survive.