Siloam Inaugurates the 32nd Hospital in Lubuklinggau South Sumatra
By : Dina Astria And Aldo Bella Putra | Thursday, January 11 2018 - 20:30 IWST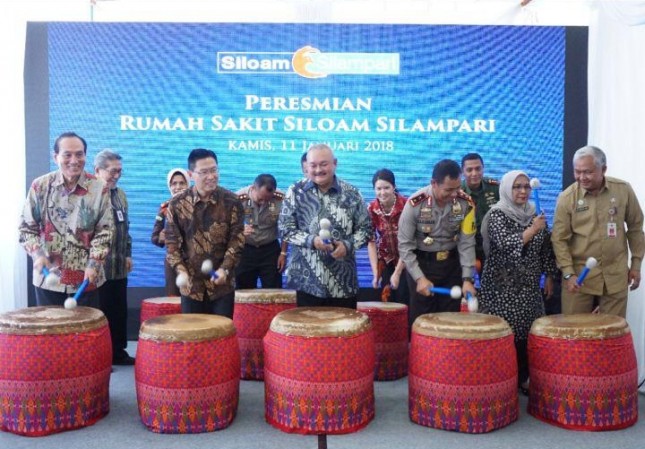 Pemukulan gendang menandakan peresmian Siloam Silampari (depan ki-ka): Sekda-Theo L. Sambuaga, CEO Lippo Group-James Riady, Gubernur Sumatera Selatan-Alex Noerdin, Kapolda Sumsel-Irjen Pol Drs. Zulkarnain, Wakil Bupati-Musi Rawas Hj. Suwarti, dan Asp
INDUSTRY.co.id - South Sumatra - PT Siloam International Hospitals Tbk today, Thursday, January 11, 2018, inaugurated Siloam Hospitals Silampari (SHLL) in Lubuklinggau. SHLL is the 5th Siloam Hospital in Sumatera Island and the 2nd Siloam Hospital in South Sumatera Province (South Sumatra).
The inauguration of Siloam Silampari Lubuklinggau Hospital was conducted by South Sumatra Governor Alex Noerdin, along with James Riady as CEO of Lippo Group, attended also by Police Chief of South Sumatera Irjen Pol Drs. Zulkarnain, Aspindum Kejati Sumsel, Vice Regent of Musi Rawas Hj. Suwarti, Kajari Lubuklinggau, Dandim, Kapolres, and the ranks of Forkominda.
The presence of Siloam Hospital in Lubuklinggau city is a manifestation of Siloam's commitment to reach all Indonesian people.
"With the international service standards, Siloam Lubamplinggau Siloari Hospital is expected to answer the needs of society for good health services to the community. This is the 32nd Siloam Hospital of Siloam Hospitals Group and the first one was inaugurated in 2018," said Ketut Budi Wijaya, President Director of Siloam Hospitals.
On the occasion, Dr. H. Mgs. Johan T. Saleh, M.Sc, Director of the Siloam Silampari Hospital explained, "We present the best facilities, medical devices and medical personnel to provide excellent health services for Lubuklinggau community, so that patients no longer need to go far for treatment. Our hope, patients can be handled quickly, thoroughly and optimally at Siloam, especially in emergency conditions that require immediate treatment. "
According to Dr. Johan, the SHLL emergency department team is trained to be the first responder in providing an appropriate first aid response to maximize patient outcomes.
"In fact, our ambulance and paramedic team are ready to answer the emergency call through Siloam ambulance call center 1-500-911. The ambulance and team are ready to go on a stabilization action at the patient site, before the patient is under hospital," he added.
It is worth noting that Siloam Silampari Lubuklinggau Hospital is equipped with emergency, outpatient, 145 inpatient care, three operating rooms, hemodialysis rooms and medical support services supported by the latest medical technology, including a 64-slice CT scan in the town of Lubuklinggau. In fact, doctors, nurses and medical staff at Siloam Silampari Hospital are also included in Siloam's national network of more than 2,700 general practitioners and specialists, 9,600 nurses, paramedics, and other trained medical personnel as per the quality standards of Siloam Hospitals Group.
To open access to international quality healthcare, Siloam Silampari Hospital will soon establish a relationship with BPJS in order to serve BPJS patients as part of the national health program, JKN (National Health Insurance).
Siloam Silampari Hospital is located on the main road of Lubuklinggau City which is Central Sumatera Highway connecting Palembang City and Bengkulu City.