Indonesian Government Explores Possible Cooperation with Kuwait
By : Hariyanto And Aldo Bella Putra | Wednesday, January 24 2018 - 18:00 IWST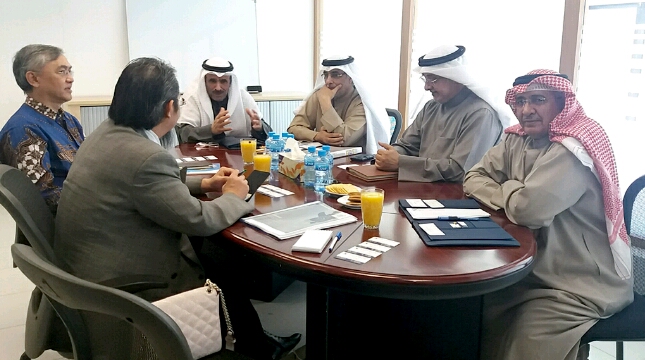 Indonesia Jajaki kerjasama dengan Kuwait
INDUSTRY.co.id - Kuwait - In order to explore possibilities of cooperation between Indonesia-Kuwait Company and follow-up Trade Mission of IKBC KADIN Indonesia, the Economic Function Team continues to make a visit to Kuwaiti company on Monday (22/1/2018). One of them is Solidaire General Trading & Contracting Co.
During the visit to Solidaire General Trading & Contracting Co., the Indonesian Embassy team was accepted by the top management of the company, Dr. Abdullah R. Al-Hajeri (Founder of the company, former Member of Parliament, former Minister of Public Works, former Minister of Trade and Industry and other important positions), Dr. Khaled R. Al-Hajeri (chairman), Mr. Ayedh R. Al-Hajeri (General Manager), Hamoud R. Al-Hajeri (Tech & Admin Services Manager).
During the meeting, top management stated that Solidaire has partnered with international companies, such as Weafri Well Services from Nigeria, Petroservices Gmbh - Magdeburg, Shandong Weima Pumps Manufacturing Co. Ltd., Sichuan Chuanshi Chrida Diamond Bit Co. Ltd., Geoplex Drillteq Limited, Dalipal Pipe Company, Enereco SPA, Perma Pipe, STARSE Energy Technology (Group) Co., Ltd., Cylingas Company LLC, NteK Solutions W.L.L.
On the occasion, the Embassy team had the opportunity to meet with the Country Manager of the company Weafri Well Services, Mr. Collins E. Nwabougor, to obtain cooperation information with Solidaire Company. He conveyed that his cooperative relationship is going well and that Solidaire is very credible in doing its part.
The Solidaire Company is engaged in upstream and downstream oil sectors in cooperation with international companies serving various areas of EPC, engineering consultants, drilling services and petroleum equipment and materials, as well as providing services for oil and gas facilities.
Solidaire assists international corporate partners in identifying market potential and facilitating various needs and securing operating space in Kuwait.
In addition to oil & gas projects, in partnership with MEDCO Company, Solidaire is also engaged in road construction and infrastructure projects. Top management revealed that it has previously implemented a US $ 550 million road project with a Chinese company.
The same opportunity also wants to be collaborated with Indonesia on projects in Kuwait. Currently Solidaire is looking for a partner company of Indonesia. They hope that the Embassy can bridge the cooperation relationship.