SOE Ministry Wants to Brand National to Overseas
By : Hariyanto And Aldo Bella Putra | Tuesday, March 13 2018 - 20:00 IWST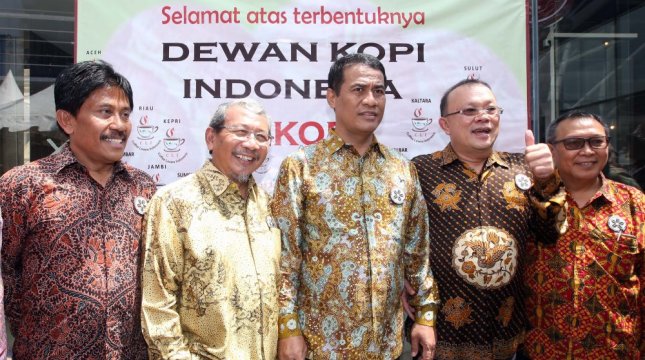 Menteri Pertanian Amran Sulaiman bersama Ketua Umum Dekopi Anton Apriyantono dan Wakil Ketua Umum Dekopi Gozali Hansen usai pengukuhan pengurus Dekopi di Tangerang Selaran, Minggu (11/3/2018).(IST)
INDUSTRY.co.id - Jakarta - The Ministry of State-Owned Enterprises wants Indonesia's "brand", especially state-owned coffee shops to compete with the world's largest coffee shop.
Deputy for Construction and Transportation Facilities and Facilities (KSPP) Ministry of State-Owned Enterprises Ahmad Bambang after witnessing the signing of cooperation between Sarinah and PTPN XII in Jakarta on Monday, pushed the synergy of SOEs to realize the desire.
"The target is clear, at least we can compete with Starbucks, we start to have a national 'brand' which is equivalent to Starbucks," he said.
Bambang said at this time many SOEs have a brand that is well known, but almost everything stands alone.
He hopes the future brand development can be done together in one container.
An example is to realize the cooperation between PTPN XII and Sarinah, where PTPN XII and its subsidiary, Rolas Nusantara Mandiri, will prepare various types of coffee to be sold at Sarinah's coffee shop "Cup of Java" and Sarinah outlets airport.
PTPN XII coffee and tea products will also be marketed online through SarinahOnline.co.id to expand product marketing in bulk.
Furthermore, Bambang also emphasized the importance of brand building and creating creativity in business development. He jokes that there are always crowded stalls even selling only instant noodles. The store even just rent a place, but always crowded with visitors.
"The Rolas coffee will be assisted by Sarinah's management, it is PTPN's brand coffee, its factory is a lot, the product is good, just coffee from other state-owned company, while it is no longer expensive, the importance of uniqueness and creativity," he said. .
President Director of PTPN XII Berlino Mahendra Santosa admitted optimistic that the cooperation between the two state-owned companies will improve the product image and add value.
As a company that is claimed to be competent and skilled in the commodity sector as well as experience from upstream to downstream, Berlino believes the image enhancement will be able to boost the competitiveness of their products.
"We have the power even though our brand image is not as strong as the young, but because we not only sell products but also experience, once we are born abstinence we are sure we will win the battle in 'consumer goods'," he said.