Realize Mark Ong Design Philosophy, G-Shock x SBTG Collaboration Birth Watch Limited Edition
By : Hariyanto And Aldo Bella Putra | Sunday, April 15 2018 - 14:30 IWST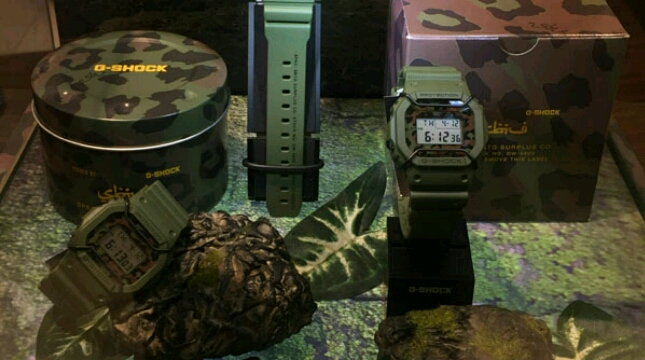 Kolaborasi G-Shock-SBTG
INDUSTRY.co.id - Jakarta - Casio announces the latest collaboration with Sabotage or better known as SBTG. The collaboration project happened by chance because Mark Ong's sister was involved in another project with Casio. From there Mark Ong was introduced to the Casio Singapore team until the idea of ​​collaboration came out.
The idea of ​​collaboration aims to realize the design philosophy of Mark Ong is believed a journey to continue to improve to be better run constantly and eventually will end by itself.
To make this happen, Mark Ong personally selects the G-Shock DW-5600 series as a clock model that will customize on the basis that the clock model is the embryo of the entire G-Shock collection and is kick-started in the absolute toughness journey.
From the collaboration, G-Shock X SBTG DW-5600 with matte green military for all parts of stral and bezel and touch of SBTG typical camouflage motif around the LCD screen.
On the LCD screen is also framed the bull bar which is a wire protector that will display the old-scholl impression on the G-Shock. The display was inspired from the wires in the military equipment.
Meanwhile, for display and the back of the casenta there is a typical logo SBTG and tag DW-5600 which signifies partnership cooperation between both parties. In addition, the activation of the backlight on the clock will show the slogan of SBTG, which is 'Destroy to Create'.
Sabotage is a brand from Singapore specialist as customizer shoe sneakers. The initial idea of ​​Sabotage comes from Mark Ong who started the customized business of sneakers shoes 15 years ago. Starting from a self until now has grown rapidly into a whole production house.
In addition to its trademark, hyper-distinctive, Sabotage is also known for its military-inspired designs, especially with the camouflage pattern drawn by Mark Ong's own hands. Especially for Mark, the camouflage pattern is considered to be a journey to constantly improve for the better that is done constantly.
With so many models and refrentions coupled with the number of collaborative projects with various industry parties, G-Shock will always be there for everyone from different walks of life and needs.
The project also confirmed that Casio will remain relevant to street culture. G-Shock X SBTG DW-5600 has been available all boutique Casio Indonesia at a price of Rp 2.999.000.