Banana Mulu Bebe Is Favorite for Youth in Halmahera West
By : Wiyanto Dan Aldo Bella Putra | Monday, April 30 2018 - 16:30 IWST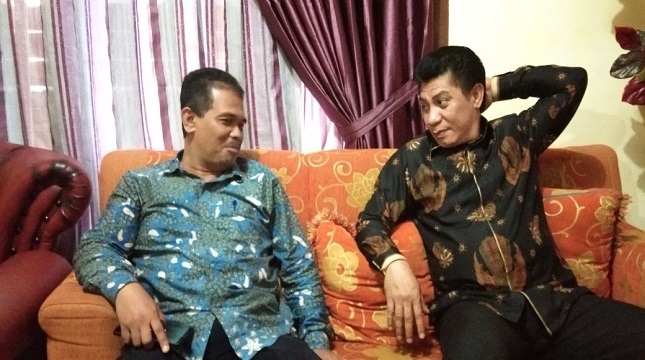 Wakil Ketua Komisi IV DPR-RI, Michael Wattimena bersama Dirjen Hortikultura Kementerian Pertanian, Suwandi
INDUSTRY.co.id - West Halmahera -The agricultural sector in the eastern part of Indonesia is increasingly showing off as the young farmers rise. This is the case in West Halmahera District, which is part of North Maluku Province.
West Halmahera itself is a major horticulture producer, in addition to plantations, in North Maluku. The results are varied, including nutmeg, mangosteen, rambutan, durian, banana and vegetables.
As for bananas, various types of varieties are found here, such as Mulu Bebe (Mouth Duck). Goroho, Needles, Shoes and Horns. Of the various varieties, the most become the mainstay of farmers in West Halmahera is Mulu Bebe. This type of local banana is currently attracting the attention of young farmers in West Halmahera.
This was revealed during a working visit by Vice Chairman of Commission IV of the House of Representatives, Michael Wattimena with the Director General of Horticulture of the Ministry of Agriculture, Suwandi as well as attending the Declaration of Farmers as a Superior Profession and Local Food Sovereignty Campaign, in Jailolo, Halbar, Sunday (29/4/2018). Attending the event is the Regent of West Halmahera, Danny Missy and Head of North Maluku Provincial Agriculture Office, Idham Sangadji.
Director General of Horticulture, Suwandi said Kementan focuses on the program to develop a center of superior horticulture and economic value. Approach the area, can be fruits and vegetables.
"In addition to bananas in Halbar, also has developed Orange Siem in Tidore Islands, Sula Islands and Central Halmahera. Also Mango in Tidore Islands and Durian in Morotai," he said.
One of the young farmers who met was Arnold (38) who has been a farmer for twenty years, said that his land is planted by various types of plants that are a combination of horticulture and plantation crops, nutmeg, and of course the mainstay plant here, banana Mulu Bebe. Initially, only planted bananas carelessly and allowed to grow just like that.
In the last two years, changing the way the cultivation becomes more organized. In one hectare of land, bananas planted with a distance of 3x3 meters. In one clump, a maximum of only 4-5 tillers are treated. If more, the puppies are moved to another place," said Arnold, a man who lives in Gamniyal Village, East Sahu District.
He explains the restriction of the sapling is done so that the bananas that grow not fight over food. The resulting fruits will be quite large according to market standard.
"Another advantage of our banana plantation is Halmahera Barat farmers, the absence of chemical fertilizer use," he explained.
The area of ​​agricultural land that is still relatively large compared with the number of farmers causing many farmers here to move land to his nearest land to do the next planting. Once done for several times until finally replanting to the starting location.
"This traditional practice is done to ensure the fertility of the soil can be maintained naturally. This cultivation practice that I do, "said Arnold.
Is planting Mulu Bebe considered beneficial? Arnold said he was very lucky to be a farmer, especially banana peasant Mulu Bebe. Per banana tree is valued quite high in the local market, which is between Rp 10 thousand to Rp15 thousand.
"As for other types, the average price of Rp 5 thousand per tree. At least Rp 5 million is earned in a month from just one hectare of Mulu Bebe's banana field. In the near future, the man who has three children, plans to expand his banana land up to 10 hectares, "said Arnold.
Going forward, Arnold has absolutely no doubt about the future of this Mulu Bebe banana. For a long time, Mulu Bebe is very popular with local people. If still raw this banana can be fried or boiled for snack. If cooked, this banana is converted into various snacks such as local cakes, kolak and banana ijo.
"In short, Mulu Bebe is a beloved local food," says Arnold.
In line with Arnold, another young farmer, Charles also has the same belief in banana Mulu Bebe. The 43-year-old man originally worked as an elementary school teacher.
Charles revealed the district government's invitation to develop various types of bananas, especially Mulu Bebe, made him decide to add another profession, namely farmers. So now has a double profession, ie teachers and peasants.
"Mulamya planted 100 banana clumps in his garden, combined with various other horticultural crops," he said.
The regent of West Halmahera, Danny Missy, explained that the banana output from this regency is 8,200 tons per year, equivalent to 62 percent of the province's total production. For banana Mulu Bebe itself which is a typical local banana is planned in the near future will get certification from the Ministry of Agriculture.
"In the future, the banana Mulu Bebe is also planned to penetrate the export market, while remaining able to survive to supply the local market in the region," he explained.
Head of North Maluku Provincial Agriculture Office, Idham Sangadji added that the provincial government plans to pilot the Mulu Bebe bananas for export needs. What will be done is of course in line with the spirit of encouraging export commodities applied by the Ministry of Agriculture.
"Within a few years, imports have been halted and Indonesian banana exports to various countries are starting to take place," he said