Tupperware Launches New Innovation, Speedy Mando
By : Dina Astria And Aldi Firhand | Saturday, May 26 2018 - 22:06 IWST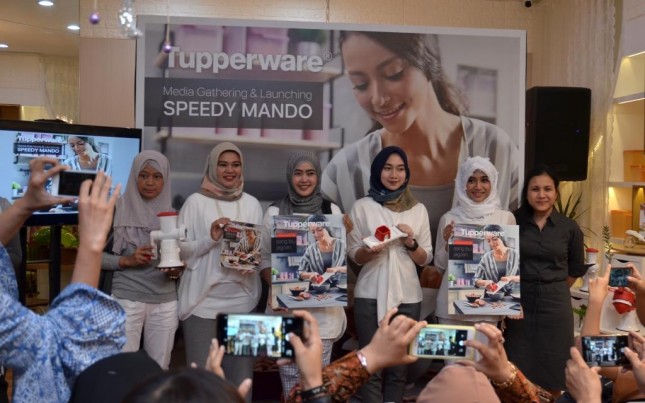 Launch Tupperware Speedy Mando
INDUSTRY.co.id - Jakarta - Currently, modern mothers always want to work fast and practical, also always try to be the ideal mother who can manage and overcome all the needs of her family. For that reason, as the leading CULINARY & FOOD CONSERVATION Company in Indonesia, TUPPERWARE again responds to the needs of these dynamic and modern Mother Millenials. Stepping on the age of 27 years, Tupperware re-launched the latest superior and innovative products in the Food preparation category TUPPERWARE SPEEDY MANDO. Of course, modern kitchen is incomplete without Speedy Mando. This product is capable of slicing thinner (up to 1mm) 2x more QUICK !. With 2 high quality stainless-steel PARTS capable of producing thin, consistent thin slices.
Speedy Mando can be used to slice a variety of ingredients from onions, fruits, vegetables, nuts to chocolate and cheese. Speedy mando is also so SAFE and EASY is used, equipped with plunger (suppressor) and food guider (container material) so that safely protect the hand and more comfortable to use. It takes only 4 easy steps to use the Speedy mando, STEP 1 (Insert one side of the container on the rail and press the other side until you hear a click) STEP 2 (Insert the food into the container, adjust so that the height of the food does not exceed the container) , STEP 3 (Hold the handle, position the plunger covering the groceries), STEP 4 (push the plunger and container with the movement back and forth until the food is finished).
Not only that, this product is also EASILY CLEANED, because all parts of the product easily removed so easy to clean. Clean and hygienic tools to process your groceries. At the bottom of the body there is an 'anti-skit feed' so it is not slippery when used. And grip (some curvature) for the above use of bowl, so fitting adjusted to the size of the bowl container slices of material. Speedy Mando also features Lifetime Guarantee (for Plunger and Food Guider).
"Inspired by the onion cutter that is always used every day by many people in Indonesia, therefore we developed SPEEDY MANDO, an innovative product that is able to facilitate the preparation of cuisine. This product is even able to slice thin 2x faster! Fusion Master Mincer also makes it easy for mothers to grind, mix ingredients and print a variety of food items with a very practical, hygienic and time saving you. Speedy Mando and Fusion Master Mincer are very suitable and should exist throughout the modern kitchen of Millenials mothers, "explained Nurlaila Hidayaty, Marketing Director of Tupperware Indonesia.
Not only Speedy Mando, Tupperware also presents FUSION MASTER MINCER multipurpose grinder innovation as a weapon mainstay for the mother whiz to prepare various types of cuisine with practical, hygienic and fast with 1-2-3 Grinding, Mixing and printing as well, Fusion Master Mincer ready to accompany Mother creates unique dishes with ground meat, to sausage printing or to print various forms of pastries. Only with Fusion Master Mincer you can create with various types of food, such as meat, fish, vegetables, even make sausage stuffing. The Fusion Master Mincer feature is sturdy and strongly bonded to any surface with a suction base vacuum action, perfectly chopped thanks to 2 grid types, practical storage because all elements can be stored together because the plunger is designed to double as a storage container.