13th Graduation Degree, Graduate of President University Ready to Work, Entrepreneurship and Continue Studies
By : Hariyanto And Aldo Bella Putra | Sunday, July 22 2018 - 21:00 IWST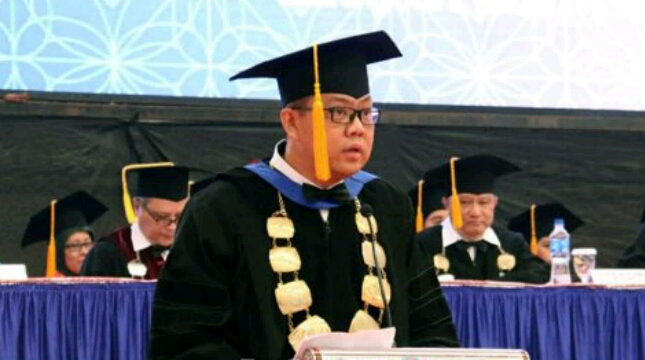 Rektor President University, Dr. Jony Oktavian Haryanto (Reza)
INDUSTRY.co.id - Cikarang - President University held the 13th graduation ceremony at Jababeka Convention Center, Cikarang (21/7/2018). A total of 979 undergraduate students (S-1) and Post-Graduate (S-2) graduated. The number is up 24.6% rather than the graduate of 2017 which is 786 students.
Quoted from president post, from all the graduates, there are 107 international students from various countries, such as China, United Arab Emirates and Vietnam.
"This year our graduates 90 percent get jobs with less than 6 months after they graduate. And we are targeting next year to 95 percent, "said Rector of President University, Dr. Jony Oktavian Haryanto.
Meanwhile, Ir. Dwi Larso, MSIE., Ph.D. as Vice Rector for Academic Affairs President University added that currently there are 3 students after graduation, which is first get a job, then entrepreneurship and the last continue study in master's and doctoral program.
"As an educational institution we have to serve these three interests, so we make the necessary improvements so we can provide the best experience to the students," added Dwi Larso.
One of them said Dwi, it has Business Incubator for students who want to build a startup. In addition, President University also has a strengthened Career Center to support students who want to find a job.
"So after the second year they are done, the students have started pitching for work which includes the internship program that we can do within 1 year. While we want to school again we help them prepare the language and the necessary tests We have Language and Culture Center for those who want to continue their studies to Europe or America, "he said.
Dwi added, President University also made improvements to the curriculum by providing character education and integrity is good, so if there is a shock in the future then the strength is in the character, mindset, attitude of the alumni.
He explained that there is an increase of new students this year which is a President University record that is above 1,000 students. "This morning's morning intake is a record of over 1,000 students; it's a good appreciation of the community for the changes we've made before. We should not be proud because we have to continue to make improvements and provide the best for the alumni and the nation of Indonesia, "he said.
More about entrepreneurship or entrepreneur, Vincentia Sherren Chief Strategy Officer of Nusatalent.com who participated in this year's graduation said, in semester 5 he got entrepreneurship course, and there he met a friend who helped him build startup.
"I finally found a solution about human resources, especially for fresh graduate and internship, due to the difficulty of finding the right job in this era," he said.
According to a girl who majored in accounting for wanting to work initially, the mind immediately changed when taking an entrepreneurship class. From whom wants to cooperate others now want to cooperate themselves.
Established since 2001, President University has produced thousands of graduates absorbed in various national and multinational companies, domestic and foreign, as well as in government offices, including some who are entrepreneurs.