Target 27,000 Blood Pockets, Tupperware Holds Blood Donor Simultaneously in Indonesia
By : Dina Astria And Aldo Bella Putra | Sunday, July 29 2018 - 17:00 IWST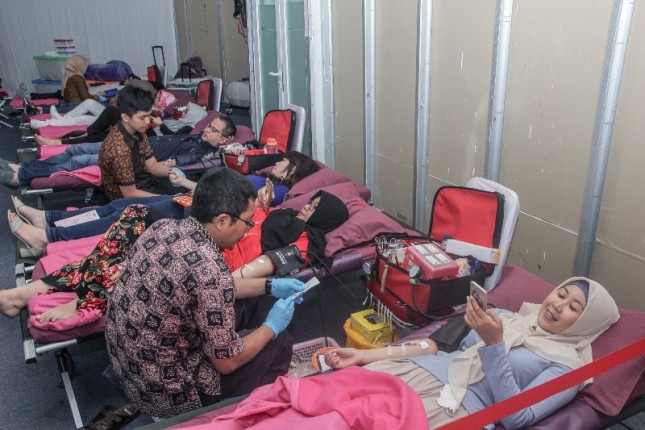 Donor darah Tupperware serentak se-Indonesia
INDUSTRY.co.id - Jakarta - In order to celebrate the 27th anniversary of Tupperware Indonesia, TUPPERWARE Indonesia in cooperation with the Indonesian Red Cross (PMI) again held a blood donor event titled "A Drop For Hopes - Together Give a Million Hopes" held simultaneously across Indonesia on July 27, 2018 yesterday.
This year, Tupperware invites Tupperware Distributors, Business Leaders (BL) and Authorized Group Managers (AGM) all over Indonesia to hold a blood donation event at their respective offices simultaneously at 128 locations in Indonesia, allowing this event to reach more many communities in various regions.
"Coinciding with Tupperware's 27th Birthday in Indonesia, we are targeting 27,000 bags of blood in our Blood Donor event simultaneously in Indonesia. In accordance with the philosophy of Tupperware 'Caring & Sharing', we also want to encourage the community, especially the women to dare to donate their blood. In addition, according to the Ministry of Health RI that the trends of Non-Communicable Diseases increasingly become the cause of death in the community, one of the only cancer and in dire need of blood transfusion. For that we invite people to donate blood to help those who need our blood, "said Nurlaila Hidayaty, Marketing Director of Tupperware Indonesia.
In addition, Over time, as stated by the Ministry of Health RI that the trend of Non-communicable Diseases (PTM) many present in the community such as hypertension, stroke, cancer, heart and diabetes. Seeing this role of blood donors is very important, especially the Cancer survivors who are in dire need of Blood Transfusion. Based on the latest data of the World Health Organization (WHO) the minimum blood requirement in Indonesia is around 5.1 million blood bags per year. While the new blood production can be fulfilled as much as 4.1 million bags of 3.4 million donations. This shows the lack of public awareness to donate blood.
Though there are many benefits if we donate blood. Here are 27 other blood donation benefits: one pocket can save 3 lives, get a free blood analysis check, find blood type, free medical check-up, help lose weight, detect disease risk early, help burn calories (500 ml blood d calories), protects the heart, lowers the risk of cancer, lowers the risk of stroke, lowers blood levels of iron, lowers cholesterol, lowers blood levels of iron, improves liver function, regenerates blood cells, improves digestive function, reduces headaches, increases production red blood cells, increase lung and kidney capacity, improve psychological health and reduce stress, eliminate stiffness in the shoulders, improve blood circulation, increase antioxidant activity in the body, prevent premature aging, reduce facial wrinkles, look fresh and youthful, and lightens the skin and prevents me lit dull.
This year Tupperware held a blood donor event in unison at 128 points in Indonesia. Among the cities of Balikpapan, Banda Aceh, Bandung, Banjarmasin, Banten, Banyuwangi, Batam, Bengkulu, Belitung, Bontang, Banjarbaru, Bukittinggi, Cilacap, Denpasar, Duri, Jakarta, Bogor, Depok, Tangerang, Bekasi, Karawang, Jambi, Jember, Jayapura , Kediri, Kendari, Kisaran, Kudus, Kupang, Lampung, Padang, Palangkaraya, Palembang, Palu, Pangkalpinang, Pekanbaru, Palopo, Pontianak, Purwokerto, Samarinda, Semarang, Serang, Sidoarjo, Solo, Sorowako , Surabaya, Yogyakarta and others. Blood donor location can be checked at http://www.tupperwa.re/donordarah2018
The event was also attended by Muhammad Ali Reza (Chairman of PMI DKI Jakarta), Doctor Vernita (Indonesian Coalition Prevent Cervical Cancer) at the Coca Cola Dome South Quarter, South Jakarta on July 27, 2018. / KICKS), Jana & Manda Soekasah (Hope Indonesia Foundation / YHI), Prilly Latuconsina (Actress & Celebrity), Valen Mieke Randa (Blood For Life Community) and drg.Haslinda (Director of Primary Health Service of Ministry of Health RI) .And this event also supported by communities including Depokers community, Bubus Tangerang Community, Blink Community, Carefour Community, AlFath Community, Runner Community, Citibank Employees, Komunitas Indonesia Archery, Cipete Hijabers Community, Women Entrepreneurs Community, Lentik Community, Amaliah Community, Komunitas Penciler Depok.
Not only the blood donation event, many exciting activities in this event include Booth Warranty, where people can exchange their damaged Tupperware products * with new ones because Tupperware provides lifetime warranty for Tupperware products to the public. Tupperware Experience & Cooking Demo is also present, so people can try directly