Tri Palma is Ready to Distribute the Hygienic Cooking Oil Platform
By : Wiyanto Dan Aldo Bella Putra | Wednesday, September 19 2018 - 21:00 IWST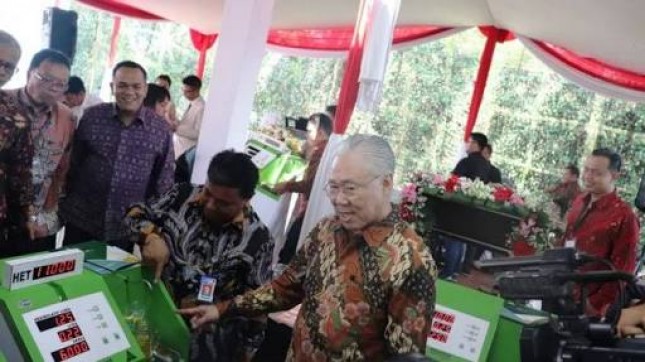 Mendag Enggartiasto Lukita, Binsar Edward Direktur PT Tri Palma Indonesia hadiri peresmian mesin AMH-o
INDUSTRY.co.id - Bandung - PT Tri Palma Indonesia as the exclusive agent of Automatic Hygienic Cooking Oil Platform (AMH-o), supports the package cooking oil program rolled out by the government. This domestically made product is 50% cheaper than other countries so it will not burden producers and traders.
Binsar Edward, Director of PT Tri Palma Indonesia, said AMH-o guarantees hygienic cooking oil in each packaging for Indonesian consumers in addition to providing benefits by reducing the use of plastics as well as ensuring distribution to remote corners of the country.
AMH-o is the solution to the issuance of the Republic of Indonesia Minister of Trade Regulation number 9 / MDAG / PER / 2/2016 which requires the distribution of bulk cooking oil using simple packaging bags to replace the current bulk oil distribution. Another benefit of AMH-o is the more economical distribution costs. Make better profitability at each stage of the distribution channel starting from manufacturers, distributors and retailers.
Binsar explained, the Automatic Hygienic Cooking Oil Platform was developed since last year through collaboration with PT Pindad and PT Rekayasa Engineering which is a subsidiary of PT Rekayasa Industri (Rekind), which is engaged in engineering services.
In this case, PT Pindad served as a manufacturing unit and PT Rekayasa Industri initially made a prototype unit design.
"Meanwhile, the marketing and distribution of the AMH-o unit is our authority (Tripalma)," he said in the inauguration of the AMH-o machine in Bandung, Saturday (September 15, 2018.
The Indonesian Minister of Trade, Enggartiasto Lukita, who attended the event, welcomed AMH-o's production because of the creation and innovation of the nation's children. In addition, the level of the Domestic Component (TKDN) of this unit is more than 60% according to government regulations.
Enggartiasto requested the distribution of AMH-o machines to be handed over to the private sector. Firmly, he refused if PT Pindad (Persero) sold and distributed the AMH-o machine directly to retailers.
Therefore, Minister Enggartiasto appreciated the presence of PT Tripalma who became the distributor of this unit. In addition, distributors of cooking oil filling machines or AMH-0 should involve local entrepreneurs.
Binsar said, "We are ready to embrace local entrepreneurs, cooperatives, and MSMEs to become a sub-distributor of cooking oil platform machines.
Compared to similar machines abroad, said Enggartiasto, AMH-o prices are up to 50% cheaper so they can be bought by traders and retailers.
Binsar said that at prices that are more affordable than imported products, he is optimistic that producers and traders will be interested in buying as part of supporting the package cooking oil program.
"At present, there has been a demand from the producers of cooking oil. We are targeting that by the end of this year it can produce 1,500-2,500 units of AMH-o through cooperation with Pindad," Binsar explained.
In the inauguration activity, Tri Palma signed a memorandum of understanding with three producers of cooking oil including Asian Agri, Wilmar and Sungai Budi Group. These three producers are big players of national cooking oil.
The inauguration of AMH-o was attended by Enggartiasto Lukita, Indonesian Minister of Trade, Aaham Mose, President Director of PT Pindad (Persero), and Fajar Harry Sampurno (Deputy BUMN), and representatives of cooking oil companies.
AMH-o can distribute cooking oil in 18 or 25 liter jerry cans in accordance with the Manufacturers trademark into a packaging bag in several doses ranging from 250, 500 to 1,000 ml, through a filling oil system consisting of a pump. Flexible pipes, solenoid valves and flow meters.
All components in AMH-o meet food grade standards. AMH-o operation is controlled by a microcomputer to ensure measurement accuracy