Pure-play Gold Mining Company Archi Indonesia Upholds its Commitment to ESG Best Practices
By : Nata Kesuma | Monday, April 05 2021 - 18:05 IWST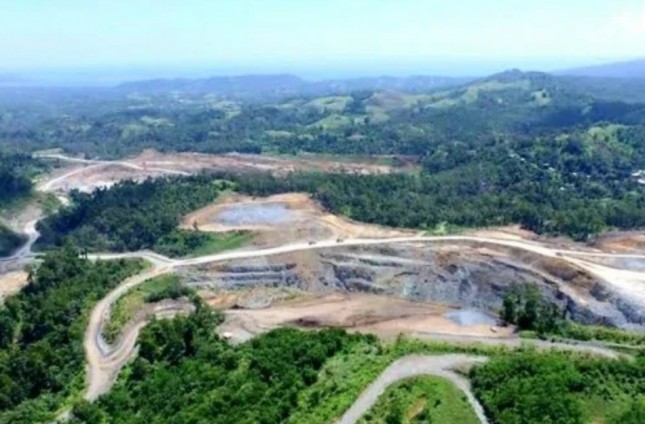 Archi Indonesia Plant in North Sulawesi
INDUSTRY.co.id - Jakarta – Archi Indonesia ("Archi"), one of the largest pure-play gold producers in Indonesia and Southeast Asia, has successfully obtained a satisfying assessment of its efforts in applying the principles of Environmental, Social,
and Governance (ESG) aspects.
The assessment and reporting were conducted by PT Lorax Indonesia
("Lorax"), which is part of Lorax Environmental Services Ltd, an independent environmental consulting firm based
in Vancouver, Canada.
Archi has a 10-year track record of operating in North Sulawesi Province through its wholly-owned subsidiaries,
namely PT Meares Soputan Mining ("MSM") and PT Tambang Tondano Nusajaya ("TTN"). Archi has now been
able to produce more than 200 kilo ounces (equivalent to 6.2 tonnes) of gold per year for the last three years and
possess 3.9 million ounces of Ore Reserves as at the end of December 2020.
In addition, Archi is one of the
largest contributors of state income in the gold mining industry through tax and royalty fees payment.
Earlier this year, Archi initiated to appoint Lorax to assess of its ESG practices in Toka Tindung Gold Mine, which
is operated by Archi's subsidiaries, MSM and TTN.
The assessment was carried out by comparing the ESG
performances in MSM and TTN with other metal mining companies in Indonesia. Cited from the Lorax
assessment report (Report) which was published in February 2021, the assessment of the company's practices
is divided into three main categories: Environment, Social, and Governance, with three assessment ratings,
namely (i) Outperform, which means the company is considered to have complied with Indonesian laws and
regulations and is in the top 20% of the top mining companies in Indonesia; (ii) Exceed, which means the
company is considered to have complied with Indonesian laws and regulations and is within 20-50% of the top
mining companies in Indonesia; and (iii) Improvement Opportunity, which means the company has complied
with Indonesian laws and regulations but positioned at the bottom 50% of mining companies in Indonesia.
In summary, the Report describes that MSM and TTN received Exceed ratings in two categories, particularly the
Environment category, which covers several components including Environmental Management Systems and
Competencies; Land Use and Biodiversity; Energy Use and Greenhouse Gas (GHG) Emissions; Water Usage;
Waste Management; and Mine Closure and Reclamation, as well as in the Governance category which covers
several components including Commitment to ESG Reporting; The Composition of Board of Directors (who are
diverse, independent and experienced in their fields); Management Compensation; and Anti-Corruption Policy.
Better yet, Archi obtained an Outperform rating in the Social category, which covers the components of Safety
Management and Employee Education; Community Relations; Procurement of Local Jobs and Employment;
Employee Relations, and Diversity and Inclusion.
Following the results of the Report, Vice President Director of Archi, Rudy Suhendra expressed the pride and
commitment of the company that will continue to be implemented,
"We are grateful for the outcome of the
assessment carried out by Lorax on our gold mining operation, which reflects the results of our concrete and
continuous efforts and in line with one of the company's mission, that is to foster employees' development,
livelihoods of the surrounding community, and environmental care, as well as to ensure good corporate
governance in everything we do. However, we are not complacent on this assessment's results and commit to
continue on improving the company's good corporate governance practices as well as concerns for environment
and surrounding communities".
In upholding the ESG principles of the company, Archi and its subsidiaries has conducted various Corporate
Social Responsibility (CSR) programs within the North Sulawesi region. In August 2020, Archi, through its
subsidiary entities, MSM and TTN, showed its commitment to support the relief of the Covid-19 outbreak by
donating a Polymerase Chain Reaction (PCR) Laboratory car to the North Sulawesi Government.
The car unit
was directly handed to the Governor of North Sulawesi Province, Olly Dondokambey, and witnessed by the
Minister of Health of the Republic of Indonesia at that time, Dr. Terawan Agus Putranto. In addition, MSM and
TTN also had donated basic food packages and masks to more than 8,000 householders surrounding the mining
area throughout 2020.
Archi's various CSR activities through its subsidiaries, MSM and TTN, have won various awards, one of which is
the "Platinum" award for the Indonesia CSR Award 2020 organized by the Corporate Forum for Community
Development ("CFCD"); CSR activities include the Public Health initiative program and the local economy
improvement program through various initiatives, including micro-economic development which is through the
capacity development of local workers in the supply chain, and the opening of labor through the apprentice
program for heavy equipment operators, welding and mechanics, as well as the establishment of a garment
cooperative; increasing local education standards through the provision of scholarships, teacher training, and the
establishment of libraries and computer laboratories; as well as building various infrastructures and efforts to
preserve culture and local wisdom.
Jhoni Lesawengen, father of Gloria Lesawengen, one of the full scholarship recipients from MSM and TTN to
study Agriculture and Tourism at the Jiangsu Agri-Animal Husbandry in China, expressed his gratefulness and
the impact that he felt from the initiative, "As a parent, I feel very proud and grateful for the presence of MSM and
TTN in our village in Minahasa.
It never occurred to us before that we could provide the opportunity for our
daughter to continue her studies at a university abroad." Since 2016, MSM and TTN have provided scholarships
to more than 80 students to study at a number of overseas universities across China, Taiwan, and the United
States.
Archi also has a strong commitment in ensuring environmental sustainability in line with the Government's
program.
More than 70 percent of the water used for the Toka Tindung Gold Mine is recycled from the tailing
pool, with less than 30 percent drawn from surface water (rainwater collected in sediment ponds and river water),
minimizing the impact on water resources in the local environment.
This represents a concrete form of the
company's program to provide clean water for near-mine communities. Furthermore, Archi also aligns various
environmental sustainability efforts with the Indonesian Government's commitment to clean energy.
In relates to
fuel usage (diesel), Archi follows with the Government program to use wields a mixture of 30 percent Biodiesel
(B30).
Overall, MSM and TTN has received "ADITAMA" with rating "Gold Award" related to mining environmental
management awards for consecutive years since 2013-2019 from the Ministry of Energy and Mineral Resources
(MEMR) of Republic Indonesia, and "PROPER" awards with a "Blue" rating for nine consecutive years since
2012-2020 from the Ministry of Environment and Forestry (KLHK) of the Republic of Indonesia.
Additionally, in September 2020, Toka Tindung Gold Mine was also selected by MEMR as a "National Vital
Objects", which reflects Archi's commitment in becoming a company that has an important and vital role for the
surrounding community, and the Indonesian state in general.
Archi also has plans to continue developing its operations in order to increase its contributions to the national
and local economy.
One of Archi's future goals includes increasing the Processing Plant capacity from 3.6 million
tonnes per year (at the end of 2020) to 8.0 million tonnes per year (by the end of 2025).
This capacity will enable
Archi to achieve production of more than 450 kilo ounces (equivalent to 14 tonnes) of gold per year.