Novartis Presents New Treatment for Psoriasis with Secukinumab
By : Hariyanto And Aldo Bella Putra | Thursday, August 17 2017 - 15:03 IWST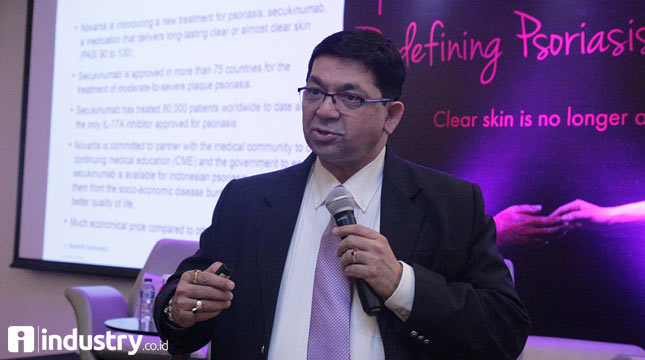 5166
INDUSTRY.co.id - Jakarta - Novartis Indonesia launches a new, medication for psoriasis patients in Indonesia to get better skin condition. Psoriasis is not just a skin disease, but it is a chronic autoimmune disease that can be suffered by adults and children.
"In order to help Indonesian patients with moderate to severe psoriasis conditions get cleaner skin longer, Novartis Indonesia launched a new treatment as well as in Indonesia. The new treatment is expected to provide clean skin up to 90%," said Novartis Indonesia President Director Milan Paleja in Jakarta, Wednesday (16/08/2017).
"Our commitment remains firm in all the countries in which we operate. We are always ready to support the Indonesian government and work with all stakeholders through JKN as well as the commercial market in order to mitigate the social and economic burden of the disease. It is a pleasure to work with the Indonesian Association of Dermatologists (PERDOSKI) to give new hope for psoriasis patients."
The existence of genetic predisposition and also environmental factors, the cause of psoriasis is not fully known. The disease is known to be associated with the immune system that is correlated with the body's cells, where skin cells grow very quickly and then accumulate on the skin. These additional skin cells then form thick and silvery scales in red, itchy, dry and often painful rashes.
"Psoriasis patients should see a dermatologist to obtain an accurate clinical diagnosis by studying the patient's experience. Both men and women can suffer from this disease, "said Dr. Danang Tri Wahyudi Sp.KK (K), skin specialist from Dharmais Hospital.
"Patients not only have to struggle against pain, but they also have to fight emotional loads such as stress and anxiety that impact on how the patient can live his daily life and have a quality life. Undoubtedly, psoriasis has a great impact on physical and mental health. The quality of life of patients will certainly decrease and certainly affect their confidence "
Area and Severity Index (PASI) Psoriasis is a method for determining the results of clinical studies for psoriasis by measuring the degree of redness, scales, and thickness of psoriasis plaque and its distribution on the surface of the body. Increased PASI scores indicate improved patient psoriasis conditions to achieve near-clean or clean skin condition.
Its availability in Indonesia is expected to bridge the need for treatment to provide improved outcomes for patients. "Secukinumab is now available to Indonesian patients. This treatment is not only expected to provide control for psoriasis disease, but also to raise the standard of expectation of patients on treatment," said Milan.