Public Works Ministry: 427 Km of New Toll Roads to be Completed This Year
By : Nata Kesuma | Thursday, April 29 2021 - 14:05 IWST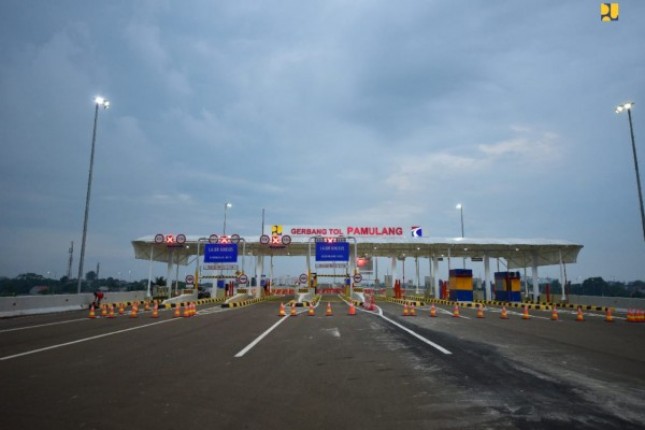 Pamulang Toll Gate. (Photo: Ministry of Public Works and Public Housing)
INDUSTRY.co.id - Ministry of Public Works and Public Housing together with its partners and the Toll Road Business Entity (BUJT) continues to build a number of toll road projects included in the National Strategic Project (PSN).
The Ministry is also targeting 427 kilometers of new toll roads to be completed in 2021. Minister of Public Works and Public Housing Basuki Hadimuljono said that the toll roads connected to productive areas such as industrial areas, tourism areas, airports and sea ports will reduce logistics costs and boost the competitiveness of domestic products.
Overall, as many as 64 toll road projects along with other important road sections are included in the PSN category in order to improve connectivity. Spokesperson for the Ministry Endra S. Atmawidjaja said that until April 2021, the length of toll roads that has been operating has reached 2,391 km divided into 62 segments operated by the BUJT.
The total length is an accumulation of toll roads completed and operated in the period of 1978-2014 which spans 795 km and the period of 2015-2019 which spans 1,298 km. Subsequently, another 246 km in 2020 and 54.69 km from January to April 2021.
"The number of toll roads that will operate will continue to increase. It is targeted that in 2021, 19 sections of 427 km have been and will be completed, so that in total there are 2,764 km of toll roads that will be completed and start operating throughout Indonesia by the end of 2021," he said.
In 2021, Endra added, from January to April 2021, there have been seven new toll roads completed with a length of 54.69 km. The remaining 14 toll roads spanning 373 km are targeted to be completed by the end of this year.