Halal Certification Process Must be Conducted Quickly: VP
By : Nata Kesuma | Tuesday, May 18 2021 - 11:27 IWST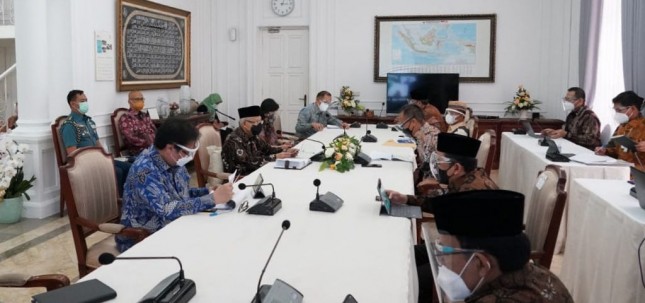 Meeting on Halal Industrial Zone and Halal Certification in Jakarta, Tuesday (11/5). (Photo by: Vice President's Secretariat)
INDUSTRY.co.id - One of the Government's efforts to make Indonesia as the world's biggest halal producer is through the designation of the Halal Industrial Zone (KIH). To date, the Government has designated East Java's Sidoarjo Safe N Lock, Tangerang's Modern Cikande Industrial Estate, and Bintan Inti Industrial Estate as the KIH.
However, its operations cannot be carried out due to the halal certification's lengthy process and high costs. Therefore, according to Vice President Ma'ruf Amin, to facilitate the MSMEs' halal products in the area, the halal certification process must be carried out quickly and at affordable prices.
Ma'ruf also asked related elements to join hands to operate the KIH immediately. On the other hand, Ministry of Religious Affairs and the Halal Product Guarantee Agency (BPJPH) will immediately issue regulations related to halal product certification in complement of Government Regulation Number 39 of 2021 on the Implementation of Halal Product Guarantee and Government Regulation Number 7 of 2021 on Ease, Protection and Empowerment of Cooperatives and MSMEs which are derivatives of the Job Creation Law.
"I ask Minister of Religious Affairs and the BPJPH to follow up in accordance with the derivative regulations related to the establishment of norms, standards, procedures and criteria (NSPK) for halal product guarantees, especially those issuing halal certification for MSMEs and assistance in halal product processes for MSMEs," Ma'ruf said during a meeting on Halal Industrial Zone and Halal Certification in Jakarta, Tuesday (11/5).
Furthermore, the Vice President has ordered Ministry of Finance and the National Committee for Sharia Economics and Finance (KNEKS) to immediately complete the codification of the halal certification number on the export and import of halal products reports. He also asked for a fast halal fatwa from the Indonesian Ulema Council and an intense promotion from government agencies which focused on investment.
"I ask related agencies on investment to be able to carry out promotions both at home and abroad," he said. Responding to the direction of the Vice President, Coordinating Minister for Economic Affairs Airlangga Hartarto is committed to providing convenience for MSMEs in obtaining halal certificates at free costs if they are able to self-declare their products as halal. In addition, Airlangga will also encourage the halal certification process to be completed within a maximum of 21 days. "This is the longest, the maximum.
And I hope the cost can also be lower," he said. In line with the Coordinating Minister, Minister of Finance Sri Mulyani revealed that the determination of the halal certification tariff is currently under further discussion.
"The cost of self-declare for MSMEs is zero rupiah. There are also several funding schemes from the State Budget, the Regional Budget, grants, revolving funds, or even companies' CSR to fund the certification," said Sri.