President Jokowi: Gotong Royong Vaccination will Increase Productivity of Industrial Sector
By : Nata Kesuma | Thursday, May 20 2021 - 13:40 IWST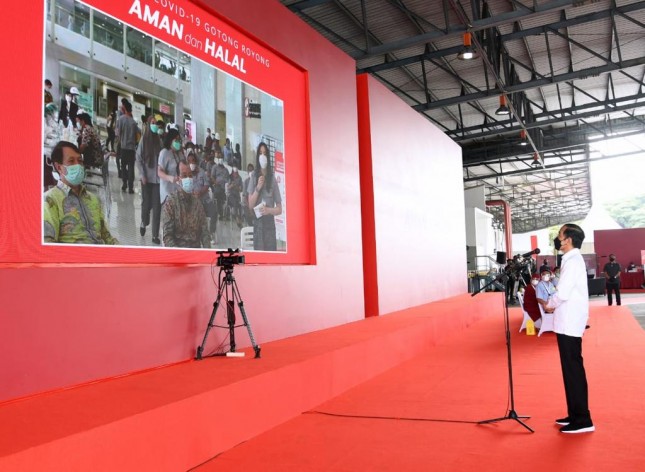 President Jokowi observes Gotong Royong vaccine rollout for employees of a number of companies through video conference, on Tuesday (18/6). (Photo by: Presidential Secretariat/ Lukas)
INDUSTRY.co.id - President Joko "Jokowi" Widodo, through a video conference, observed the first rollout of Gotong Royong vaccination program for employees of 19 companies, on Tuesday (18/6) at a factory belonging to PT Unilever Indonesia, in Jababeka Industrial Estate in Bekasi, West Java.
"This morning, I visited PT Unilever which has started vaccination under Gotong Royong scheme along with 18 other companies. They give free vaccine to all managements, employees, and workers," he said after the event.
The vaccination scheme is set up through cooperation between the private sector, spearheaded by the Indonesian Chamber of Commerce and Industry (KADIN), in collaboration with the Government, especially Ministry of State-Owned Enterprises, Ministry of Trade, and Ministry of Health.
"Allow me to deliver my highest appreciation to the KADIN and companies participating in Gotong Royong vaccination," he said. The President expressed hope that the vaccination can increase productivity of the workers and recover the industrial sector.
In addition, this program will also support the implementation of national vaccination and accelerate the country to reach head immunity.
"In the first phase, the country has secured 420,000 doses of vaccines for Gotong Royong vaccination scheme. In the near future, we hope there will be more supply so it can speed up the effort to meet the target of vaccination coverage," he added.
President Jokowi expected that vaccination program provided by the Government and coupled with Gotong Royong scheme, will be able to roll out vaccine to 70 million people by September.
Therefore, Indonesia will be able to flatten the curve and the national economic growth which has contracted 0.74 percent in the first quarter of 2021 will rebound.
"We hope the vaccination can recover our economy. With our joint efforts, hopefully the national economic growth in the second quarter of 2021 will meet our target of seven percent since productivity in various companies and businesses will run as usual," he concluded.