Pesident Jokowi: Encourage Community to be More Digitally Capable
By : Nata Kesuma | Friday, May 21 2021 - 16:00 IWST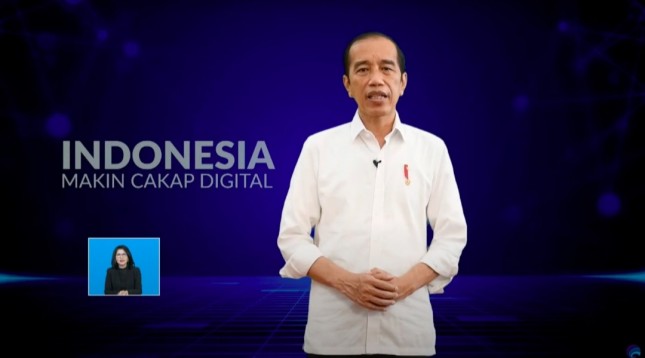 President Jokowi delivers remarks on the virtual launching of the National Digital Literacy Program, Thursday (20/5). (Source: Screenshot from Ministry of Communications and Informatics YouTube TV)
INDUSTRY.co.id - In commemoration of the 2021 National Awakening Day, on Thursday (20/5), President Joko "Jokowi" Widodo has launched the National Digital Literacy Program to accelerate digital transformation, particularly, development of human resources in the digital field.
"I hope this movement will continue to grow so that it can encourage various initiatives in other places, to carry out concrete work in the community so they become more competent in using the internet for educational purposes and productive activities," the President said.
On that occasion, the Head of State also expressed his appreciation to all stakeholders involved in the program initiated by Ministry of Communications and Informatics since 2017.
"I extend my appreciation to 110 institutions and various communities involved in this national digital literacy program. Digital literacy is a huge task, the Government cannot work alone without support from all components of the nation to raise public awareness of digital literacy," he said.
The President assessed that challenges in the digital space are getting bigger, which marked by negative contents that continue to emerge as well as crimes in digital space that continue to increase.
"Hoaxes, online fraud, gambling, child sexual exploitation, cyberbullying, hate speech, up to radicalism must be watched out since they could threaten the nation's unity and integrity," he said.
Thus, the efforts to minimize negative contents and maximize positive contents in the digital space have become a joint obligation.
"We have to improve public's digital intelligence to enable them to create more creative and educative contents that promote peace," he stressed.
The President went on to say that digital connectivity must provide benefits and added value for all Indonesian people.
"The internet must be able to boost the community's productivity, upgrading the MSMEs to the next level. Do increase the capacity of MSMEs onboarding to e-commerce platforms so that it gives added economic value to all elements of society," he stated.
In the meantime, Minister of Communications and Informatics Johnny G. Plate said that the digital literacy program is essential in the midst of intensive use of the internet by the public.
"This is our joint task to ensure that every child of the nation is able to optimize the internet use. Digital literacy is a necessity to fortify netizens from negative impacts of the internet," Johnny said.
The Minister revealed that there are at least a total of 196.7 million netizens in Indonesia. Indonesia's digital economy potential is projected to reach US$ 124 billion by 2025.
For the record, efforts in improving national digital literacy initiated by Ministry of Communications and Informatics through the National Movement of Digital Literacy (GNLD) Siberkreasi have received an international award at the World Summit on the Information Society (WSIS) Prizes 2020. The GNLD Siberkreasi has been named as a Winner of the WSIS Prizes 2020 under the category c4: Action Lines Capacity Building.
"It is the highest award for communications and informatics initiatives at the global level given by the International Telecommunication Union (ITU), a United Nations' agency," he said.
In 2021, the National Digital Literacy Program is planned to be held through 2,000 trainings based on modules and curricula targeting four pillars of digital literacy, including digital ethics, digital safety, digital skills, and digital culture.
"In the future, this program will reach more than 12.4 million training participants per year in 514 regencies/cities in 34 provinces throughout Indonesia," he concluded.