Kopassus Invites Nation Components to Keep Solidity
By : Herry Barus And Aldo Bella Putra | Sunday, August 20 2017 - 22:57 IWST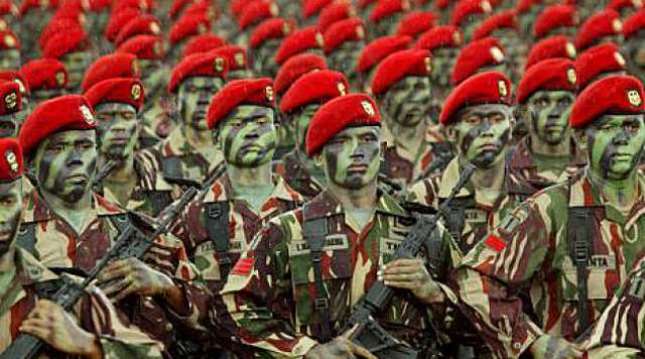 51
INDUSTRY.co.id - Jakarta- Special Forces Command (Kopassus) invites all components of the nation to maintain the solidity and integrity between TNI, Police and the public in filling the 72nd Independence of the Republic of Indonesia.
"In this HUT RI message, let us build solidity, integrity, and diversity as stated by TNI Commander General Gatot Nurmantyo on a joint prayer" 1717 17 "to grow a more affectionate Indonesia," said Assistant Personnel (Degen) Kopassus Lieutenant Colonel Inf Vivin Alifianto on the sidelines of the race event of the 72nd Anniversary of the Republic of Indonesia, at Gatot Subroto Square, Mako Kopassus, Cijantung, East Jakarta, Saturday (19/09/2017)
In enlivening the 72nd anniversary of the Republic of Indonesia, Kopassus held various races for Kopassus and civil servants in Kopassus environs, among them, race sack race, wife carrying contest, tug of war race, pinang climbing competition, and others.
"In enlivening the Indonesian Anniversary, we hold various competitions, in order to increase the solidity of soldiers in Kopassus," said Vivin.
Not only that, he said, in the race that was held until Saturday afternoon, also involved elements of the community who became Kopassus assisted citizens.
"Kopassus is present with the community as a form of synergy between soldiers and the people in the midst of diversity and diversity, togetherness between soldiers and people in the Cijantung area is expected to further strengthen the ties of friendship, the sense of unity and unity among fellow children of the nation," he told the media crew.
This concern is expected to inspire the community to live life, based on a sense of kinship and togetherness to achieve the common goal towards a prosperous Indonesian society.
"It is shown by the involvement and the involvement of the traders to be participants in the race of cart carts in their respective merchandise. That is the form of the unity of the TNI with the People," said Vivin.
In the race, Kopassus also held a carnival competition featuring a variety of national cultures and unique performances according to each characteristic followed by 37 participants, covering 10 units of military institutions in Cijantung area (Sat 81 Kopassus, Group 3 Kopassus, Denma Kopassus , Yonkav 7 Idam Jaya, Yonkav 1 / Kostrad, Denzibang, Denzipur, Denpom 2 Cijantung, Brigif 1IPIK, Brigif 7 / PR); Two kindergartens (Atang Kindergarten and Gatot Kindergarten); Five elementary schools, three junior high schools, two high schools; Desa Binaan Group 3 and Sat 81 Kopassus; Residents of RW 03, 04, 05 and 08 and PT Kobame Propertindo.
The carnival participants will showcase their best cultural attractions in front of the jury and the community around Cijantung.
In particular the very interesting of the carnival execution is the display of Sisingaan Group 'Budhi Kancana Wangi'.