Delivering Aspirations, Sugarcane Farmers Will Do Road Truck Parking Action
By : Hariyanto And Aldo Bella Putra | Monday, August 21 2017 - 18:02 IWST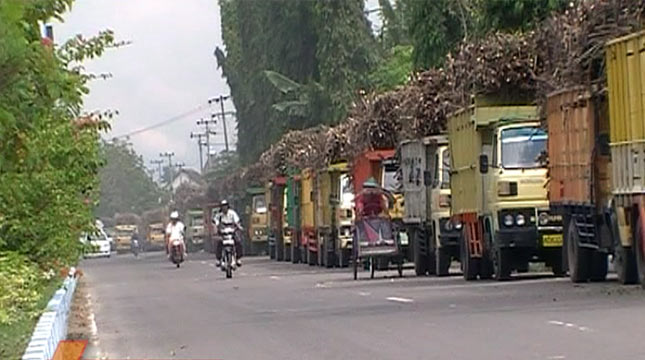 5166
INDUSTRY.co.id - Jombang - The National Leadership Council (DPN) of the Association of Indonesian Smallholders of Sugarcane Farmers (APTRI) instructed farmers to take action on sugar cane trucks at main roads in each sugar factory on August 24, 2017.
According to a press release from DPN APTRI signed by Soemitro Samadikoen (Chairman of APTRI) and M Nur Khabsyin (Secretary General of APTRI) on August 28, sugar cane farmers will also demonstrate at the state palace to convey their aspirations and complaints to policy maker.
Soemitro revealed, on Friday (18/08/2017) DPN APTRI held a meeting with the board of DPD and DPC APTRI all over Indonesia. The meeting, held at one of Surabaya hotels, discussed the preparation and finalization of the rally to Jakarta.
"Sugarcane farmers feel that they are just victims of the ruling policy, so we will hold a roadside sugar cane truck at each of the sugar mills on Thursday, August 24, 2017," Soemitro said.
Soemitro added, APTRI actually has made various efforts by way of diplomacy conveying aspirations, grievances, screams and problems of sugar cane farmers to policy makers in Jakarta. However, until now no results are expected. "Therefore, August 28, 2017, the sugar cane farmers go to the palace for a demo," he added.
According to Soemitro, there are some parties that will be the target of the demo of the Minister of Trade. In the ministry, the farmer carries the demand for sugar from farmers to buy Rp 11 thousand / kg. Farmers also urged the government to stop importing sugar.
Furthermore, the Minister of SOEs, farmers will collect compensation promises from imports, which are 8.5% yield assurance in 2016, low yield compensation in 2017, and sugar mill revitalization.
"Do not close the sugar factory, before setting up a new factory, and to the Finance Minister, we are requesting the Minister of Finance to issue a Regulation of the Minister of Finance on the release of sugar from VAT," Soemitro concluded.