Indonesia-Japan, Cross Culture Training Indonesia Holds Cultural Exchange
By : Herry Barus And Aldo Bella Putra | Tuesday, August 29 2017 - 22:00 IWST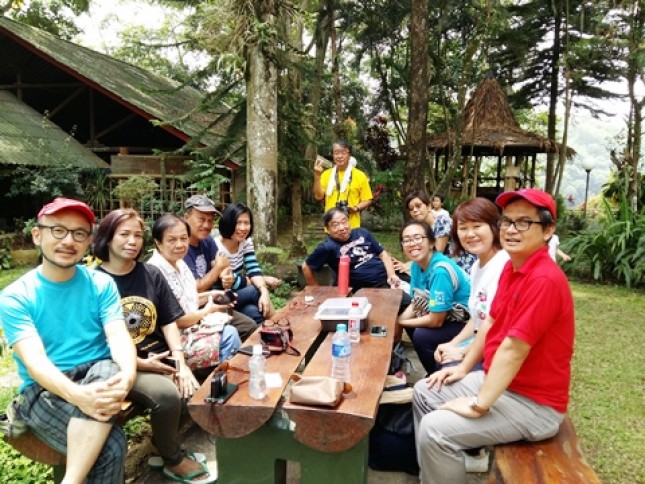 Indonesia -Jepang, Cross Culture Training Indonesia Adakan Pertukaran Budaya
INDUSTRY.co.id - Jakarta- Cross Culture Training Indonesia (CCTI) in collaboration with Hyppo Family Group Japan held a Cultural Exchange of Japan. The annual program that runs since 1991 has been followed by hundreds of Japanese citizens and hundreds of Indonesian citizens.
"Within a year the program runs twice, from 25 to 30 August and 28 December to 2 January every year, with dozens of Japanese citizens coordinated by the Hyppo Family visiting Indonesia, while Indonesian citizens who participate in cultural exchanges are coordinated by CCTI, visiting and studying To various cities in Japan for 5-10 Days" explained Deputy Executive Director of Cross Culture Training Instutute Indonesia Eman Sulaeman Nasim, Tuesday (29/8/2017) on the sidelines of mentoring participants of cultural exchange from Japan in Lembur Pancawati Ciawi Bogor West Java.
Furthermore, the lecturer of Department of Tourism Vocational Program University of Indonesia (UI) and Institute of STIAMI explains, in this program, Japanese citizens who follow cultural exchange participants stay for 3 days at home of Indonesian citizens who volunteered to be host family or willing to be home it's just.
In the home of Indonesian citizens of Japan who participated in cultural exchanges learned a lot about the culture and habits of Indonesian citizens while the citizens of Indonesia who hosted the family can learn from the habits of Japanese people starting from the matter of cleanliness, speech and discipline and culture. During their stay in residents' homes, Japanese citizens also travel around Jakarta or the cities where the Host Family is located. Visiting various attractions including shopping by to be taken to his country.
In August, Japanese citizens who participate in cultural exchange programs live in the homes of Indonesian citizens in Jakarta, Bekasi, Tangerang, Subang and Bandung. After that both Japanese citizens and citizens of Indonesia who are the host family gather together the discussion of various things and natural attractions in the area Ciawi Bogor
"So far Japanese citizens who participated and lived in Indonesian family homes, many learn how to cook and enjoy traditional Indonesian cuisine and various cultures and cultures Indonesia.Selain it also visited the attractions and national history such as museums Fatahillah and Bogor Botanical Gardens ," explained Eman Sulaeman Nasim.
In the same place, one of the participants of cultural exchange of Indonesia -Japanese origin of Tokyo, Mieko Iida (67) admitted very happy to follow the activity. In addition to adding you also learn a lot about Indonesian culture directly from the people of Indonesia.
"I am also happy to learn firsthand how to cook traditional Indonesian cuisine. I enjoy Indonesian cuisine," said Mieko Iida San, a Japanese resident who lives around Tokyo.
Executive Director and founder of Cross Culture Institute Indonesia Ali Syarif explains, "Indonesian citizens who participate in Japanese Cultural Exchange, in addition to warmly welcomed by the host Family in Japan can also learn a lot about the culture and the good things that exist from Japanese culture and social. The Japanese have the discipline and the mental and excellent character that Indonesians need to emulate for the advancement of the Indonesian nation. Let's see for you how the culture of Japanese citizenship is extraordinary. It can be learned and imitated. And Indonesian citizens who are participants of cultural exchange can understand and learn why Japanese people can have good discipline and mentality and good manners."
"Indonesian people who follow the Japanese-Japanese cultural exchange, usually leave in February or March every year so can still watch the blossoming of Sakura flowers in Japan," said Ali Sharif.
Ali Syarief added that as well as Japanese citizens living in Indonesian homes, Indonesian citizens who participate in cultural exchange, while living in host families, Japanese citizens in various cities in Japan, are also free of charge.
Added by Eman Sulaeman Nasim, his side has submitted this program to the elected governor of DKI Jakarta Anies R.Baswedan on the sidelines of the meeting of expert council Anies -Sandi some time ago. Eman hopes, Indonesian citizens who participate in cultural exchange to the next Japanese comes from the teachers.
"Indonesian teachers who take part in cultural exchange to Japan will be able to watch the teaching and learning activities at school in Japan so that they can learn how the education system prevails. the teacher can educate the children of his students have a high sense of discipline and mental and cultural mutual respect that is very high.Later once back to Indonesia, the father and mother of our teachers can apply it slowly land in the school Indonesia.I hope if pak Anies Rashid Baswedan has served the governor of DKI Jakarta can give permission or mandate so that high school teachers in Dki Jakarta can follow this good program" explained Eman Sulaeman Nasim