Kadin Chairman Entered into the International Trade Agreement Talk Team
By : Ridwan And Aldo Bella Putra | Thursday, September 07 2017 - 17:00 IWST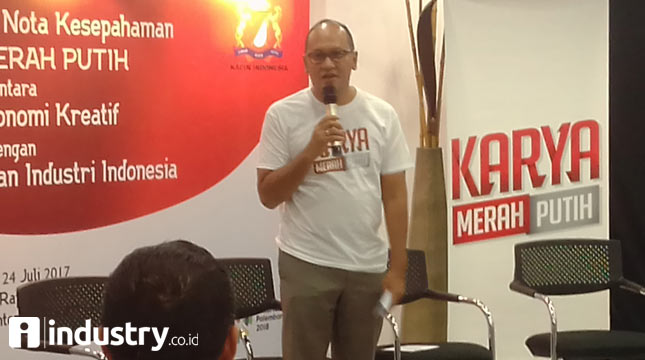 Ketua Umum Kadin Rosan Roeslani
INDUSTRY.co.id - Jakarta - Chairman of the Indonesian Chamber of Commerce and Industry (Kadin) Rosan P. Roeslani was appointed as part of the international trade agreement negotiating team established by the President of Indonesia, Joko Widodo.
President Jokowi appointed Minister of Marine Coordinator Luhut Binsar Pandjaitan as the director of this team, while Minister of Trade Enggartiasto Lukita became its chairman.
The formation of this team is contained in Presidential Regulation (Perpres) No. 82 of 2017 which was signed on August 18, 2017 ago.
"The International Trade Agreement Negotiating Team, hereinafter referred to as the PPI Negotiating Team, is the team assigned to conduct the International Trade Agreement Talks to achieve the objectives outlined by the Government of Indonesia for national interest," read Article 1 paragraph (3) of the Regulation.
The task of the PPI Negotiator Team is to enhance Indonesia's active role in international trade agreement negotiations both in multilateral, regional and bilateral forums. In addition, the team also established negotiating positions and country strategies, as well as providing direction to the negotiating group.
"The PPI Negotiator Team is under and responsible to the President," reads Article 6 of this Presidential Decree.
In addition to the Chairman of Kadin, the team also comprises Foreign Minister, Finance Minister, Minister of Manpower, Minister of Industry, Minister of Energy and Mineral Resources, Minister of Communications, Ministry of Communication and Information, and several other ministers.
If deemed necessary, according to this Presidential Regulation, the chairman of the PPI Negotiator Team may appoint advisory team and experts. "The advisory team referred to, may come from academics, practitioners, associations, and / or business actors," read Article 8 paragraph (3) of this Presidential Regulation.
The Presidential Regulation stipulates that the costs required to carry out the tasks of the PPI Negotiating Team are charged to the Ministry of Trade's budget. The costs required for the execution of the tasks of the negotiating group are charged to the budgets of each ministry / government agency concerned.
Chairman of Indonesian Chamber of Commerce and Industry, Rosan Perkasa Roeslani assess the importance of this team. According to him, the slow free trade negotiations with some countries make export markets taken by other countries.
He then tells his experience accompany Jokowi during a visit to Turkey, some time ago. He said Indonesia's exports to Turkey reached US $ 350 million in 2014, but shrank to US $ 60 million by 2015.
"Apparently they imported all of Malaysia's existing FTA (free trade agreement) since 2015, so the price is more competitive," said Rosan in Jakarta (6/9/2017).