Rumah Kamnas Held Gathering and Halaqoh with 500 Ulama Discussed Issue of Radicalism and Terrorism
By : Herry Barus And Aldo Bella Putra | Saturday, September 09 2017 - 21:00 IWST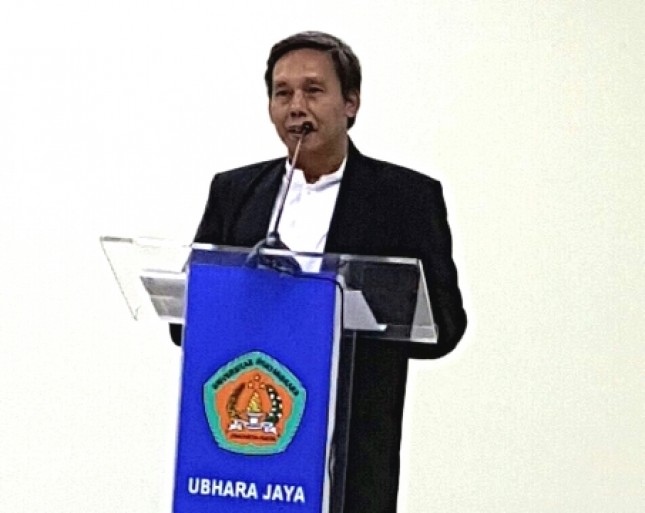 Maksum Zuber Ketua Umum Rumah Kamnas (Foto Ist)
INDUSTRY.co.id - Jakarta - Rumah Kamnas is an organization concerned with issues in the field of National Security. Rumah Kamnas was established on September 1, 2016 by alumni of Kamnas School organized by National Security Study Center (Puskamnas) of Bhayangkara University, Jakarta Raya.
This organization has a Vision to Create a Cultural Society of Security based on Pancasila and the 1945 Constitution.
Throughout 2017 Indonesia is faced with a number of challenges or threats in the form of radicalism and terrorism that disturb our sense of diversity and disrupt the stability of national security in order to realize the ideals of President Jokowi.

Today radicalism and terrorism are real threats that have caused many lives and financial losses. Moreover, in the milineal era radicalism and terrorism have used social media to build opinions or narratives for the mobilization of support and justification. In fact, people cannot distinguish hoax and facts.
With the escalation of the threat of radicalism and terrorism that is getting stronger in society. This requires the attention of all components of the nation, the police or government, including civil society.
therefore, Rumah Kamnas as part of the civil society component felt called to invite all parties to move together to think of the best pattern to overcome the issue of radicalism and terrorism. Related to that, it is necessary to explore the views of Ulama, Umaro and Community Leaders.
That is why the Kamnas House Society invited 500 ulama, in the activities of Silaturrahmi and halaqoh ulama, umaro and community leaders to be held, at Pondok Pesantren Al-Munir Kalianget Banyuglugur-Besuki, Situbondo regency of East Java on Sunday, September 17, 2017.
This event lasted for one day, taking the theme: Formulating the National Interest of Indonesia on the Dangers of Radicalism and Terrorism in Indonesia.
Selection of Al-Munir Pesantren as host / sohibul hajat because the guardian of DR. KH. Achmad Abu Naim Muiz is very concerned about the issues of nationality, especially related to the issue of Radicalism and Terrorism, it is on this view and concern that Rumah Kamnas cooperates in organizing this activity.
This activity is expected to be opened directly by the Chairman of Majelis Ulama Indonesia (MUI) Prof. Dr. KH. Maruf Amin and National Police Chief Gen. Tito Karnavian as Keynote Speakers.
A number of prominent figures were invited as speakers at the meeting, including the Minister of Religious Affairs (H. Lukman Hakim Saifuddin), the Minister of Social Affairs (Hj Khofifah Indar Parawansa), the Steering Committee of the Presidential Work Unit of Pancasila Ideology Development (Prof. Dr. Mahfud, MD) , Executive Director of Amnesty International Indonesia (Dr. Usman Hamid, SH M.Phil.), Executive Director of Imparsial (Al Araf, SH. MA), National Security Expert (Dr. Kusnanto Anggoro).