Telkom-1 Satellite Customer Recovery Completed 100 Percent
By : Herry Barus And Aldo Bella Putra | Monday, September 11 2017 - 17:00 IWST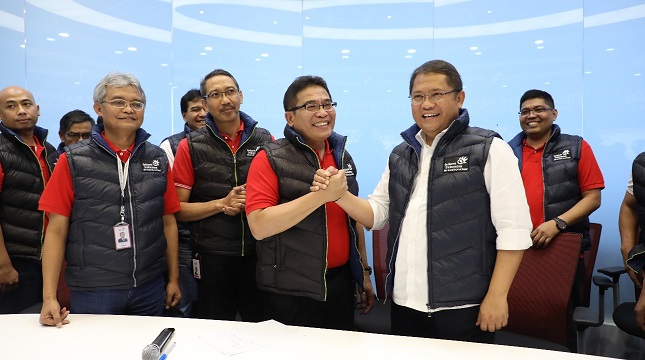 Menteri Komunikasi dan Informatika Rudiantara kanan bersama Dirut Telkom Alex J Sinaga
INDUSTRY.co.id - Jakarta - PT Telkom Indonesia Tbk (Persero) ensures the restoration of Telkom-1 satellite customer connectivity service completes 100 percent in accordance with the target on September 10, 2017.
"Until 20:00 pm tonight, Sunday (10/09/2017) connectivity restoration position reached 14,689 sites or 98 percent of the total 15,019 sites so that on Monday (11/9) at 00:00 pm customer connectivity complete 100 percent, said Telkom CEO Alex J Sinaga in a press conference at Graha Merah Putih Telkom Jakarta, Sunday night.
According to Alex, since September 7, 2017, the entire network of offices and ATMs of the State Bank Association (Himbara) such as PT Bank Negara Indonesia (BNI) Tbk, PT Bank Rakyat Indonesia (BRI) Tbk, PT Bank Mandiri Tbk and PT Bank Tabungan Negara (BTN) Tbk has recovered 100 percent post Telkom Satellite anomaly 1.
"Particularly for PT Bank Central Asia, I have coordinated with the President Director of BCA and there is an agreement for the connectivity system to be fully recovered," he said.
The result of coordination between Telkom and Bank BCA management concluded that the connectivity system for ATM services has been recovered as a whole.
Some operational aspects for the functioning of a number of ATM machines are still ongoing to ensure that all ATM machines are functioning as normal as before.
Alex disclosed that the recovery service is due to support from various parties, including the Ministry of SOEs, Kemkominfo, BRTI, Bank Indonesia, OJK, YLKI, TNI, customers and business partners, media colleagues and the people of Indonesia.
"We especially express our appreciation to 2,195 Telkom officers who always stand by and work hard for 7 x 24 hours," said Alex.
PT Bank Rakyat Indonesia (BRI) stated that since last Monday (4/9), the entire network, both work units and ATM BRI has fully recovered. There are 321 ATMs and 124 work units of BRI affected by anomaly caused by Telkom-1 Satellite at the end of August 2017.
For customer service of Bank BNI, BNI ATM has recovered 100 percent, 51 outlets have functioned normally on September 3, 2017 and 1,151 ATMs have been normal today.
On September 10, 2017 also stated that all customer services utilizing BTN ATM facilities have been able to be served normally. During the recovery period, Bank BTN conducts intensive coordination and communication with Telkom to accelerate the improvements made.
Of the total 15,019 sites of customer service, there were 11,574 sites ATM services and 3,445 non-ATM services.
To accelerate the recovery of a number of sites experiencing constraints during antenna repointing, Telkom uses 5 percent fiber optic network and uses a 14 percent machine to machine (M2M) network.
"Repointing is not a matter of shifting the VSAT direction according to the transponders used but rather on non-technician factors such as weather conditions and areas that are difficult to reach," Alex insists.
He described, repointing can actually be done no longer 2-3 hours, but many areas that are difficult to reach even can reach 2-3 days.
One of the leading areas of Indonesia in Masalembo, although it was constrained by weather but in the area did not happen "black out" network because it uses Telkom 3S satellite. So also in Papua precisely on Pani Island and Rice, recovery is complete.
Alex ensured that the steps taken by Telkom after the recovery were to continue the National Crisis Center function to monitor services to ensure stability and quality of service to customers.
Then return the temporary solution to the permanent solution, within two months and process the securing of the 108 degree BT orb slot to the International Telecommunication Union (ITU) with Kemkominfo