Telkom Optimistic Increases Performance in Semester II 2018
By : Wiyanto Dan Aldo Bella Putra | Friday, August 31 2018 - 02:00 IWST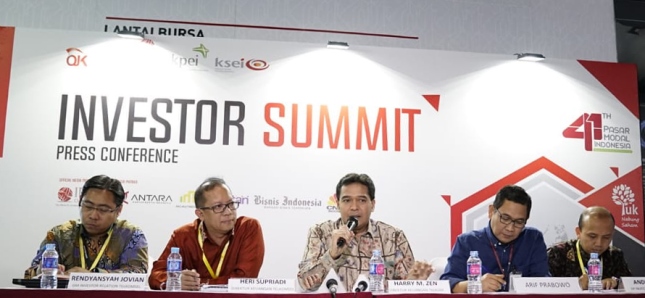 Direktur Keuangan Telkom Harry M. Zen (tengah) memberikan paparan terkait kinerja perseroan saat acara Investor Summit di Jakarta, Rabu (29/8).
INDUSTRY.co.id - Jakarta - PT Telkom Indonesia (Persero) Tbk (Telkom) is optimistic that it can improve performance in the second semester of 2018. Completion of the construction of the Indonesia Global Gateway (IGG) international fiber optic sea cable system infrastructure, the operation of the Merah Putih Satellite, the development of the cellular, fixed broadband business segment and enterprise, and re-profiling floating rate debt, are some things that are expected to boost the Company's performance until the end of this year.
IGG Cable System is an underwater fiber optic backbone network that provides direct connection to the western part of the world through the South East Asia - Middle East - West Europe 5 network (SEA - ME - WE 5) along 20 thousand km and to the east via the South network East Asia - United States (SEA - US) for 15 thousand km.
Telkom Finance Director Harry M. Zen revealed that by the end of June 2018, the IGG development progress had reached 5,300 km or around 96%. This submarine cable system is expected to be ready for operation in the third quarter of 2018. The existence of IGG Cable System provides a competitive advantage for Telkom through the development of express routes to Europe (SEA - ME - WE 5), the United States (SEA - US) and seamless connectivity in the East and West Indonesia (Express Super Core).
"The existence of the IGG Cable System in addition to providing technical advantages in the form of low capacity, reliability and latency, also supports the development of the broadband business in Indonesia and captures the potential for business growth in the region," said Harry in Jakarta, Wednesday (08/29/2018).
In addition, Telkom has just finished launching the Merah Putih Satellite on August 7, and has been in orbit 108 degrees East Longitude. The satellite which carries 60 active transponders with the reach of Indonesia, these Southeast Asian and South Asian countries, is undergoing an In Orbit Test. The presence of the Merah Putih Satellite adds to Telkom's satellite transponder capacity, so it is expected to reduce the digital divide in Indonesia (digital divide) and strengthen TelkomGroup's international business so that TelkomGroup is able to become Indonesia's leading digital telecommunications company and globally competitive. "Merah Putih Satellite will be ready for service on the third week of September 2018," Harry said.
As the dynamics of the telecommunications industry increase, especially in the cellular business segment, Telkom strives to create a healthy cellular industry by implementing various marketing strategies and pricing to monetize data, as well as consistently implementing infrastructure development. Telkom is committed to continuously adjusting the development of consumer trends in Indonesia, which has shifted from traditional voice and SMS services to data, characterized by growing data consumption and high customer demand for quality data services. Thus, Telkom is optimistic that it can strengthen the performance of its mobile data business in Semester II 2018.
In the fixed-broadband business segment with IndiHome products, until the end of August 2018, Telkom recorded impressive growth in which IndiHome's total customers have reached more than 4.5 million or increased by 1.5 million customers since the beginning of 2018. "The massive growth of customers is in line with improving the quality of our services, including by strengthening networks, enriching content, offering a variety of attractive minipack, as well as continuing to improve after sales services. This is also Telkom's effort to continue to maintain excellent customer experience, "Harry added.
Meanwhile, for the enterprise business segment, Telkom believes it is able to maintain strong revenue growth, as recorded in Semester I 2018 which grew 19.5% over the previous year. With the increasing trend of digitization in various corporations, SMEs, and government agencies, the need for information & communication technology (ICT) solutions will also increase. "This is a great business opportunity for Telkom to continue to grow the enterprise business segment," Harry continued.
In terms of funding, in the near future, Telkom will also immediately issue Rp. 1 trillion to Rp. 2 trillion Medium Term Notes (MTN) to improve the debt structure in terms of the interest profile. "Through MTN, Telkom decided to lock some interest into fixed interest for the next two to three years. This is done to anticipate the trend of changes in interest rates going forward, amid the pressure of rising interest rates from the United States which could have an impact on rising domestic interest rates, "Harry concluded.