Telkom Group Posts Prepare 18,393 Personnel To Ensure Excellent Primary Service During Idul Fitri
By : Wiyanto Dan Aldo Bella Putra | Sunday, June 17 2018 - 13:00 IWST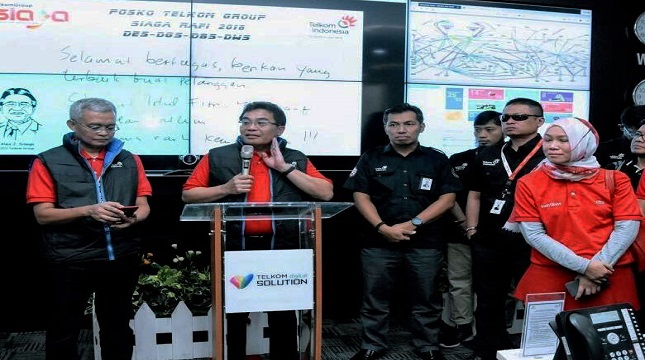 Direktur Utama Telkom Alex J. Sinaga (kedua dari kiri) didampingi Direktur Network IT and Solution Telkom Zulhelfi Abidin (paling kiri), Direktur Enterprise and Business Service Telkom Dian Rachmawan (kedua dari kanan) dan Direktur Consumer Service
INDUSTRY.co.id - Jakarta - Facing Hari Raya Idul Fitri 2018, PT Telkom Indonesia (Persero) Tbk (Telkom) performs escort related to the readiness of production equipment and network infrastructure in anticipation of telecommunication traffic surge.
This is done to ensure all TelkomGroup services both voice and data in prime condition to meet the needs of customer communication in its activities to welcome the long holiday Idul Fitri 2018. As in previous years, Telkom has made preparations by establishing TelkomGroup Siaga Ramadan and Idul Fitri (RAFI) from June 8 to June 21, 2018.
The TelkomGroup Siaga RAFI post is conducted on a national and regional scale so that it is expected to make immediate countermeasures or recovery (recovery) in case of service interruption to customers. Field technicians are also fully alerted in some service area cities.
In addition to readiness in terms of production equipment and infrastructure, as well as customer service readiness at Plaza Telkom, GraPari Telkomsel and TelkomGroup Post. Vice President of Corporate Communications Telkom Arif Prabowo said, Telkom ensure the network is ready to face the spike in communication traffic during Lebaran 2018.
"Full support 18,393 Personnel Standby for 7x24 hours and scattered in 98 TelkomGroup Standby RAFI 2018 is expected to add a sense of comfort to communicate and provide maximum benefits for customers and all the people who are joyfully vacationing with family in Eid al-Fitr, no need worried to experience or feel the discomfort due to disruption of communication services, "said Arif.
Arif added that during the period of Ramadhan and Idul Fitri Telkom Group is guarding three programs, namely Service Top Program (top perform quality of service) which is a commitment to provide the best service in PREMIUM area (Public, Religious, Malls, Indoor, Uniqueness and Massive Crows) , in addition to the RAFI 2018 Special Packages program and TelkomGroup Share that share with others as part of Corporate Social Responsibility.
"Telkom network is ready to face the traffic spike to provide maximum services to the community," said Arif. He expressed, Telkom has anticipated the surge of telecommunications traffic, especially for data services along the homecoming route and destinations to mudik by strengthening the network in the area- destination area of ​​the homecoming and also in tourist sites.
Telkom also provides services for not less than 368.12 thousand access points' wifi.id and Wi-Fi Corner (WiCo) at several strategic points where customers perform activities outside the home such as airports, Railway stations, malls or tourist sites.
"To ensure the people get Digital IndiHome service, besides Plaza Telkom we also alert Indihome Car (MoBi) spread in several strategic locations so that customers feel comfortable doing activities with relatives at home," said Arif. He added that Telkom currently has 4 million IndiHome subscribers.
Mobile & Mobile Broadband Preparedness
Telkomsel as a subsidiary of TelkomGroup has also been increased all network elements at the strategic points of the homecoming lane and public hub centers. Specifically, Telkomsel is upgrading its network in the Java-Sumatra route to provide quality services with sufficient capacity.
Arif explained, network quality is a top priority in anticipating the high use of communication services in the RAFI period. "During this period, the usage of communications services is higher than usual days, so Telkomsel has made various preparations from infrastructure and products and services so that customers can enjoy the service comfortably during the RAFI period. Can enjoy the experience of using mobile broadband services optimally and prima, "he said.
At this year's RAFI, Telkomsel estimates a significant increase in data traffic compared to normal days, an increase of about 137 percent compared to last year. This is very likely to happen because the behavior of communications travelers and tourists are now dominated the use of data services.
Telkomsel's customers' convenience in communicating in the RAFI 2018 period supported more than 171,000 BTS spread across Indonesia to maximize the use of data services.
The operation of TelkomGroup Siaga 247 and Telecommunication infrastructure strengthening is one of TelkomGroup's commitments to maintain the quality of reliable telecommunication services in order to create the best customer experience and provide the best service for all Indonesian people.