Indonesia to Export LNG to Bangladesh
By : Hariyanto And Aldo Bella Putra | Saturday, September 16 2017 - 21:00 IWST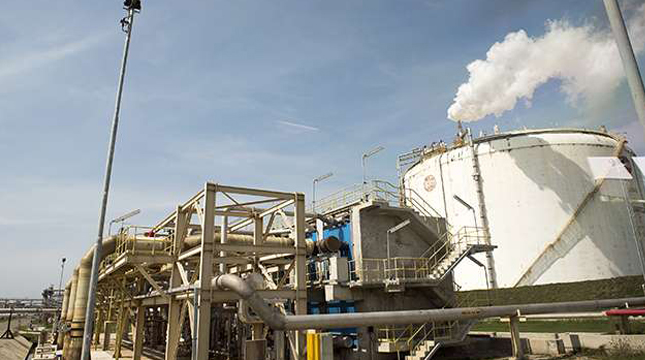 Kilang LNG
INDUSTRY.co.id - Jakarta - Indonesia will export liquefied natural gas (LNG) to Bangladesh to address the country's gas supply deficit.
The Government of the Republic of Indonesia and the People's Republic of Bangladesh in the Office of the ESDM Ministry, Jakarta, Friday (15/9/2017) signed a memorandum of understanding to strengthen cooperation between the energy fields of both countries.
One such form of cooperation is the possibility of exporting LNG from Indonesia to Bangladesh.
A press release from the Ministry of Energy and Mineral Resources said the signing of a memorandum of understanding was undertaken by ESDM Minister Ignasius Jonan and Minister of State for Electricity, Energy and Mineral Resources of Bangladesh Nasrul Hamid.
The memorandum of understanding underscores Bangladesh's willingness, readiness and willingness to discuss further the construction of an LNG receiving and infrastructure facility in Bangladesh, including possible supply of LNG from Indonesia, and affirming Indonesia's willingness to facilitate discussions with Indonesian LNG producers and marketers.
Head of Communications, Public Information and Cooperation Bureau of the Ministry of Energy and Mineral Resources, Dadan Kusdiana, said that there are still a lot of LNG cargoes, which have not been absorbed and in the future, tend to increase.
In 2014, there are 22 unabsorbed cargoes, of which 16 cargoes are exported and the rest are for domestic use.
"A year later, it swelled to 66 unused LNG cargoes, with 60 cargo exported and six domestic cargoes," he said.
Meanwhile, in 2016, he added, there were 66.6 non-absorbing LNG cargoes with details of 43 cargoes exported and 23.6 cargoes domestically.
"This Memorandum of Understanding is based on the good relations between Indonesia and Bangladesh to cooperate in the energy field today for Pertamina and Petrobangla, then possibly for other companies that can support LNG supply to Bangladesh," said ESDM Minister Ignatius Jonan in his speech at the signing.
Meanwhile, Minister Nasrul Hamid expressed his gratitude to Indonesia for the opening of cooperation opportunities aimed at overcoming the deficit of LNG supply in the country.
"The deficit in 2018 is estimated to be around one million tons and will increase to about 11 million tons per year starting 2030. To meet the gas deficit, the Government of Bangladesh will import LNG to be carried out by Petrobangla," he said.
In addition to LNG supply to Bangladesh, through the memorandum of understanding, Pertamina also established an LNG receiving facility consisting of "floating storage and regasification unit" (FSRU), "mooring" and "off-loading", "sub-sea" infrastructure and gas pipeline "onshore" to the "grid" of natural gas.
"This is just the beginning of cooperation, opened the opportunity for business development, we will talk further technical later," said Gas Director of Pertamina Yenni Andayani on the same occasion.