Constrained Combined Regulation of Indonesian Cable TV Operator Search Solutions
By : Amazon Dalimunthe And Aldo Bella Putra | Saturday, September 23 2017 - 16:00 IWST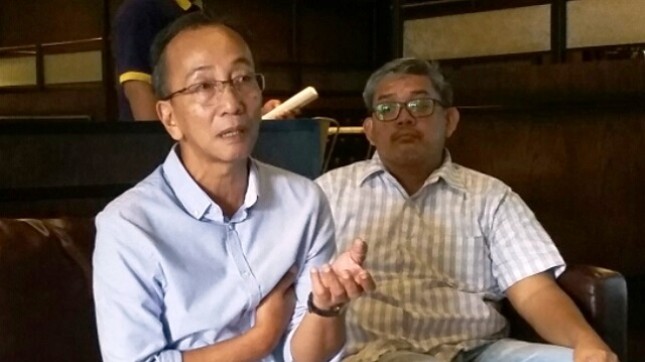 Gugun Yudinar, Ketua Umum GO TV Kabel Indonesia, bersama Sekjen, Muchlis
INDUSTRY.co.id - The development of cable TV in Indonesia has made no significant progress after participating as a media communications player as mandated by Law No. 32 of 2002 on broadcasting. The main obstacle is the number of regulations that bind the cable TV operators in running operations. As stated by oeh Gugun Yudinar, Chairman of Indonesian Operator Cable Association (GO).
"There are so many Indonesian Cable TV Problems. One of them is related to the use of PLN pole mast which until now there is no clarity for the cable TV operator. In fact, there are indications of impartiality of PLN subsidiaries that have cooperated with one of the Korean companies that collect electricity utility tariffs to the cable TV operators," explained Gugun Yunidar
"Then the National Private TV broadcast (MNC GROUP) using public frequency that should be freely enjoyed by the community, requires cable TV operators to pay to MNC for Rp.15.000, - monthly subscribers," added Gugun.
According to him, cable TV activity is a group of Small and Micro Enterprises, the cumulative existence of Cable TV becomes so strategic because it involves stakeholders and the number of customers is extraordinary. Cable TV also contributes to increased employment figures for energetic and skilled young people in the region. More than 35,000 people have decent jobs and also help the government in improving the national economy.
Gugun explained that GO-TV Kabel Indonesia is a voluntarily established organization by operators and entrepreneurs SME Cable TV with Indonesian legal status, based on the similarity of aspirations, wills, needs, interests, vision, mission and activities and objectives to participate in assisting Government in development , delivering information widely to the people of Indonesia, educating the life of the Nation, and advancing the infrastructure and superstructure of Cable Television Indonesia.
There are currently more than 7,000 TV-based broadcasting providers in Indonesia with total households of cable TV services in Indonesia. "Based on the empirical data, the number reaches more than 9 million households or equal enjoyed by more than 40 million Indonesian citizens who are in remote parts of the country from Sabang to Merauke." Gugun said.
And to find solutions to the common problems they face, in addition to forming GO TV Cable organization Indonesia, they will also hold the first National Rapar Coordination (Rakornas) which will be held on September 25 tomorrow at one of the hotels in Jakarta.
This Rakornas will be attended by almost 200 entrepreneurs of Cable TV Se-lndonesia is a forum organized as a venue for silahturahim akbar Cable TV entrepreneurs throughout Indonesia.
Hope Gugun, Rakornas, will collect the ideas and ideas of the members, as well as bringing together the various perceptions, interests and needs of various Indonesian cable TV entrepreneurs as well as finding solutions and formulas for the resolution of the various problems that plagued the business Cable TV Indonesia.
Through this forum is expected to create uniformity of steps, common commitment and spirit to fight for the industrialization of Cable TV business in Indonesia to the era of digitalization is guaranteed, based on law, sustainable and gain juridical and moral support from central and local government. (AMZ)