TKI Sends Money Rp 57.6 Trillion to Indonesia
By : Ahmad Fadli Dan Aldo Bella Putra | Monday, October 02 2017 - 18:00 IWST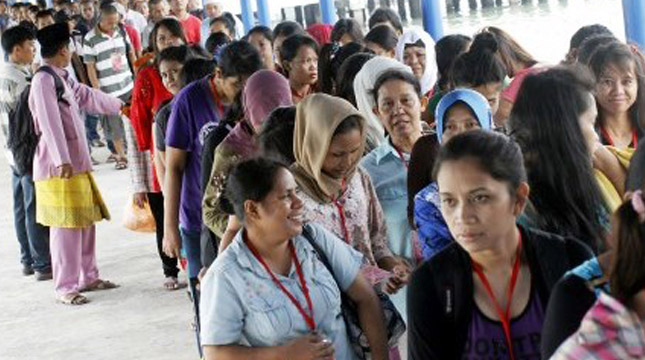 TKI Indonesia
INDUSTRY.co.id - Jakarta - Remittances of Indonesian migrant workers (TKI) reached Rp 57.61 trillion during January to June 2017. While in the form of dollar exchange rate, in the period of June 2017, the amount of remittance coming to Indonesia was US $ 4.3 billion.
"This amount of remittance is based on Bank Indonesia's report on the money sent by the migrant workers," said the Head of Public Relations of the Indonesian Agency for the Placement and Protection of Indonesian Workers (BNP2TKI), Servulus Bobo Riti, in his written statement, Saturday (29/09/2017).
According to Servulus, because based on the BI report, the data is official. The amount is not yet calculated the traditional pattern that is still valid that is money brought directly by TKI or money deposited by TKI to the family through TKI who return to their home area.
Not all migrant workers know the money transfer mechanism by using banking services. There are still many workers who allegedly send money using non banking services such as his friend who returned to Indonesia. Related to this matter, BNP2TKI always socialize to prospective migrant workers in order to take advantage of banking services in the remittance.
When compared to the same period of June 2016, the amount of remittance flowing to all corners of Indonesia, especially in the sources of migrant workers, decreased Rp 4.3 trillion.
This decline occurs, among others, due to government policies that prioritize the placement of formal TKI, the number of overseas placement abroad which has decreased in the same period between 2016 and 2017, and the real impact of the policy of closing the placement of informal TKI to the Middle East region countries.
In addition, the factors of limited employment opportunities for foreign workers are in some countries placement of migrant workers due to fluctuating economic conditions.
From the side of the region sending the most money came from countries in Asia, namely Malaysia US $ 1.2 billion, Australia and New Zealand ie US $ 2.58 billion. Following the Middle East region including Africa US $ 1.61 billion, and the US and Europe each US $ 94.7 million and US $ 34.41 million.