MES Project Jakarta Becomes a Sharia World Economic Center
By : Herry Barus And Aldo Bella Putra | Friday, October 06 2017 - 18:00 IWST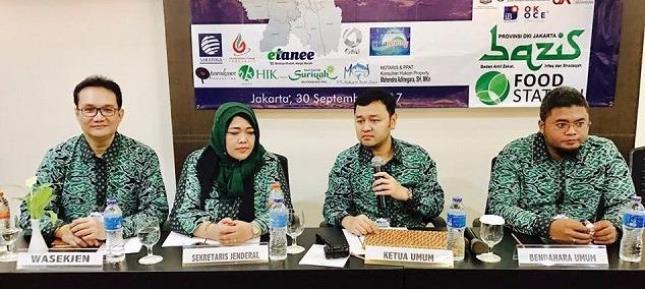 Ketua Masyarakat Ekonomi Syariah (MES) Rezza Artha memaparkan program dalam muswil MES di Jakarta (dok- INDUSTRY.co.id)
INDUSTRY.co.id - Jakarta - DKI Jakarta has great potential in developing sharia economy. The capital of the Republic of Indonesia is projected to be the center of the world's sharia economy.
"Our focus is on DKI Jakarta being the center of sharia economic development in the world, considering Indonesia has 220 million Muslims, this must be one of the potential attraction in developing sharia economy in our capital city," said Chairman of Sharia Economic Community (MES) DKI Jakarta Rezza Artha in Deliberation Area (Muswil) and Working Meeting Region (Rakerwil) MES DKI Jakarta at Sofyan Inn, Pancoran area, South Jakarta, recently.
In Muswil and Rakerwil was elected by acclamation Rezza Artha as Chairman of MES DKI Jakarta period 2017-2022, Diantri Lapian as Secretary General, and Ivan Andy Darmawan as General Treasurer. Also attending the event was Vice Governor of DKI Jakarta Selected Sandiaga Uno in his capacity as Chairman of the Board of Trustees of MES Jakarta.
"Bang Sandi advised MES to play a more important role in the development of DKI Jakarta, especially in the field of sharia economy. One of which he said earlier is how DKI Jakarta became the center of the development of sharia economy of the world," said Rezza.
MES DKI Jakarta plans to hold a number of international events related to Halal Lifestyle or Halal Lifestyle which includes halal tourism, halal culinary, Muslim fashion, and halal creative industries as well as kosher entertainment.
According to Rezza, halal tourism will become a priority in the development of Sharia Economy in DKI Jakarta. Because, according to his calculations, the value of business in the business of halal tourism now reaches 150 billion dollars.
"Jakarta will be a tourism destination of Muslim-majority countries. That is, the potential of the world reached 150 billion dollars," said Rezza who is also a businessman of this sharia bank.
Rezza hopes halal tourism can boost state income until 2020. The role of halal tourism can take market share of a total value of 150 billion dollars higher," Rezza said.