10 Demands for Indonesian Children to President Jokowi
By : Aldo Bella Putra | Monday, July 24 2017 - 17:35 IWST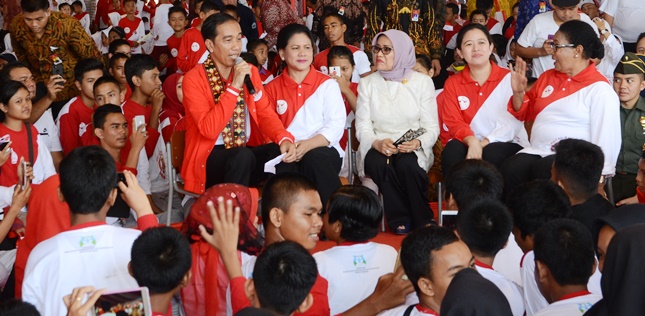 President on Children's Day Event
INDUSTRY.co.id - Pekanbaru - Representative of the National Children's Forum (FAN) submitted 10 requests before President Joko Widodo and First Lady Iriana Joko Widodo in commemoration of National Children's Day 2017 in Pekanbaru (23/7/2017)
First, increase access to the service of making birth certificate especially in remote areas.
Second, increase the role of the child forum in the development process;
Third, involve community leaders in the implemtasi maturity of marriage age.
Fourth, grow child-friendly patterns of asus.
Fifth, increase control over the circulation of narcotics and psychotropic and protect children from advertising, promotion, sponsorship and cigarette smoke.
Sixth, improve child-friendly health facilities and improve child malnutrition. Seventh, increase education through implementation of school implementation 5 day zonasisasi school and delete.
Eighth, improve the use of healthy internet with the spirit of literacy in children.
Ninth, increase alert learning for children in disaster prone areas and conflicts.
Tenth, protect children from all forms of sexual exploitation and violence.
"Stipulated in Riau July 21, 2017, on behalf of Indonesian children," said representatives FAN.
Meanwhile, in his speech, PPPA Minister Yohana Yambise also admitted that cases of violence against children are still high, especially in Riau.
"There are other issues that are problematic throughout Indonesia especially in Riau, Riau is the second largest in Indonesia for domestic violence cases, early child marriage and even more trafficking child in Batam including Tanjung Pinang," said Yohana.
He also hopes that the National Children's Forum, which becomes the preliminary forum of National Children's Day, can together with the government to socialize non-violence campaign against children.
"The mother of the minister asked directly whether there is still a young marriage? Young children are forced to marry, do children agree to marry at a young age?" Yohana asked to the participants.
"No," the children replied.
"After that there are still cases of violence against children, the parents are still not children?" Yohana asked.
"Still," the children replied.
"Wow, this means the family is not child-friendly, in the school the teachers are still childless?" Yohana asked as quoted by Antara.
"Still," replied the children, who numbered about 3,000 people.
"Where the teacher is called the minister's mother, facing the children there should be no physical violence, there should be no punishment, no child abuse should be reminded, no child abuse," she said.
In addition to Jokowi, there is also Lady Iriana Joko Widodo, Mrs. Mufidah Jusuf Kalla, Minister of Women's Empowerment and Child Protection (PPA) Yohana Yambise, Coordinating Minister for Human Development and Culture (PMK) Puan Maharani, Minister of the Cabinet Secretariat Pratikno, Head of the Indonesian Creative Triawan Munaf and a number of regional heads of governors such as Riau Governor, Arsyadjuliandi Rachman, and Jakarta Governor Djarot Hidayat and his wife.