Banner Logo HUT TNI in Puncak Jaya Enter MURI Record
By : Herry Barus And Aldo Bella Putra | Sunday, October 22 2017 - 15:00 IWST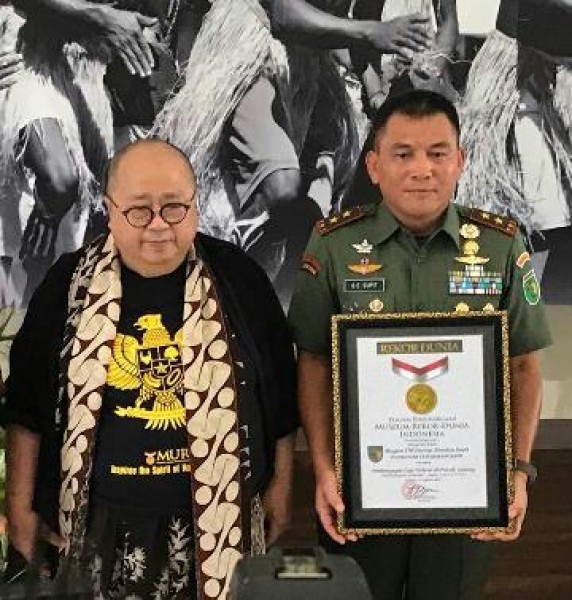 Pangdam XVII/Cenderawasih, Mayjen TNI George Elnadus Supit dan pendiri MURI, Jaya Suprana.(Foto Ist))
INDUSTRY.co.id - Jakarta - Indonesia World Record Museum (MURI) record for banner logo of the 72nd anniversary of the largest TNI in Puncak Jaya officially handed over by MURI founder Jaya Suprana to Commander of Kodam XVII / Cenderawasih, Major General TNI George Elnadus Supit, Friday afternoon (20/10 / 2017).
The procession of MURI record charter handover took place in Tony A. Rumpis Hall of Kodam XVII / Cenderawasih, Jayapura, Papua.
"I express my deepest gratitude and appreciation to Mr. Jaya Suprana as the founder of MURI who has recorded the achievements achieved by 13 soldiers of Kodam XVII / Cenderawasih and Bhinneka Tunggal Ika Expedition Team into the Record of Indonesian World Record Museum," said Commander George in his speech
Commander George explains, banner logo of the 72nd anniversary of the TNI measuring 16.5 meters x 17.3 meters was successfully unfurled in the highest area of ​​Indonesia on October 3, 2017 ago. This event was held in addition to commemorating the anniversary of the TNI as well as instilling the spirit of patriotism and love of the homeland, as well as to garner solidity and intimacy between TNI, students, students, youth, media crew and other community components.
"Similarly, I would like to thank the People of Merdeka Online, who have synergized with Kodam XVII / Cenderawasih to initiate this activity and prepare Bhinneka Tunggal Ika Expedition Team so that all climbers can carry out this climbing mission well, safe and smooth" said the Commander of George further.
He is also grateful that all climbers can end this ascent without any shortcomings. Climbing to the highest peak in Indonesia at Puncak Jayawijaya - Carstensz Pyramid is admitted it is not an easy thing to do.
"Many obstacles and challenges faced by participants from both the natural and weather conditions, as well as the stamina factors of the Participants, so it is reasonable that this achievement can be appreciated by listing it in the Indonesian Record Museum," added Commander George.
As citizens of Kodam XVII / Cenderawasih, said Commander George, of course feel proud because in addition to currently gained the confidence to maintain the sovereignty and integrity of the Republic of Indonesia, especially in the region of Papua, turns his soldiers as knights' protector of the people, also able to incise achievements in various fields.
"The presence of MURI in Indonesia is certainly an encouragement for the children of Indonesian children, to compete for the highest achievement in every field so that it can be a pride for the Indonesian nation," said Maj. Gen. George.
Present on that occasion Dar Edi Yoga as the leader of the company RMOL and wife Jaya, Aylawati Sarwon who came directly from Jakarta. While Commander George was accompanied by Kasdam XVII / Cenderawasih, Irdam XVII / Cenderawasih, Kodam Expert Staffs, Assistants and Kabalak, and fellow officers, Bintara, Tamtama and ASN Kodam XVII / Cenderawasih.
The climbers of the Bhinneka Tunggal Ika Expedition Team include journalists from RMOL, ReportaseNews, CNN, TransTV. Then three students from nature lovers Elpala SMA 68 Jakarta, students from Makassar and Bandung, and youth organization TRAMP.