PGN Immediately Build Transmission Gas Duri-Dumai Along 67 Km
By : Hariyanto And Aldo Bella Putra | Tuesday, October 24 2017 - 20:00 IWST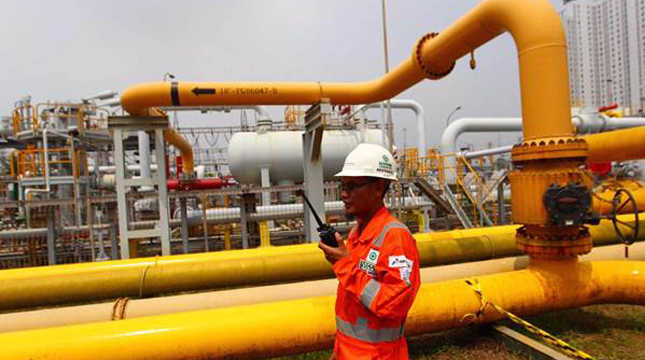 Ilustrasi Migas (ist)
INDUSTRY.co.id - Jakarta- PT Perusahaan Gas Negara (Persero) Tbk will immediately realize the construction project of Duri-Dumai gas transmission pipeline in Riau along 67 kilometers.
Based on official information received by Editor in Jakarta, Tuesday (24/10/2017) the groundbreaking process will begin in November.
"Beginning in November PGN commenced the construction of a 67 km earthquake gas transmission pipeline project from Duri to Dumai This project is estimated to take 12 months, and our target is October 1, 2018, that gas flows to PGN customers in Dumai," said PGN Commercial Director Danny Praditya .
According to Danny, construction of this transmission pipe can be implemented immediately because the land acquisition process is almost complete. Moreover, the construction of the Duri-Dumai pipeline will use the Pekanbaru-Dumai toll road area. "We are in synergy with PT Hutama Karya as the builder of the toll road," said Danny.
Danny said, other than that the licensing business was no problem.
According to him, PGN already pocketed all necessary permits. "We have granted the principle permit from the regional government and environmental permits and other licenses," he said.
The Duri-Dumai transmission gas transmission pipeline project is a state-owned joint venture between PGN and PT Pertamina (Persero) through its subsidiary PT Pertamina Gas.
This cooperation refers to Minister of Energy and Mineral Resources Decree No. 4975 K / 12 / MEM / 2016. In June, both SOEs have signed Head of Agreement (HoA).
The plan PGN and Pertamina will build a transmission pipeline along the 67 kilometers. The investment will be disbursed reached 76 million US dollars or equivalent Rp1, 02 trillion (exchange rate Rp 13,500).
The pipeline development fund is sourced from internal cash of each company. In accordance with the ownership portion, PGN will receive a 40 percent share in the project, while Pertamina gets 60 percent.
The gas to be piped to this pipeline comes from the Corridor Block managed by ConocoPhilips in South Sumatra. In addition, there will be additional gas from Bentu Block operated by Energi Mega Persada (EMP).
The total gas supply that will flow into the transmission pipeline is about 200 million cubic feet per day (mmscfd). The gas will be channeled to meet the needs of industries in Riau, port requirements, petrochemical industry, and operational needs of Pertamina's Dumai refinery.
"In principle on the side of PGN is ready, just waiting for the readiness of partners," lid Danny.
Not only in Dumai, PGN is also currently developing West Natuna Transmission System (WNTS) transmission pipeline infrastructure to Pemping Island, Riau Islands Province. PGN also develops natural gas pipeline in Muara Karang-Muara Bekasi along 42 km. PGN is also still in the process of building a natural gas distribution pipeline network in Pasuruan, Mojokerto.
Currently, PGN has built and operated a natural gas pipeline infrastructure of 7,270 km or 80 percent of the downstream gas pipeline throughout Indonesia. Despite continuing to build an infrastructure project for natural gas network, PGN does not burden the State Budget (APBN).
Of the infrastructure, PGN is delivering gas to 1,652 industrial customers and power plants, 1,929 commercial or hotel customers, restaurants, and restaurants, small businesses. PGN also supplies gas to 204,000 household customers. This PGN customer is spread over 19 cities in 12 provinces.