SMSI Jakarta Include 300 Students in Digital Week HPN 2018
By : Aldo Bella Putra | Monday, July 24 2017 - 19:04 IWST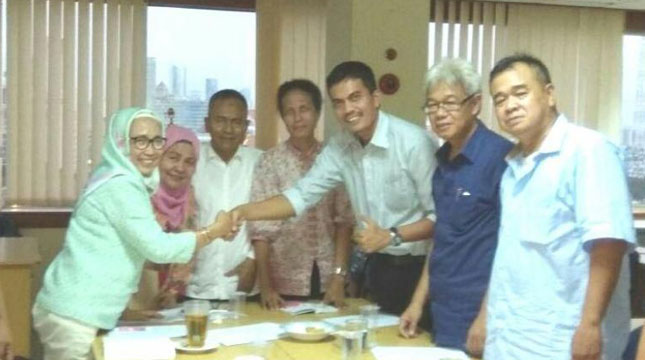 5620
INDUSTRY.co.id - Jakarta - The National Press Conference (HPN) 2018 will be centered in Padang, West Sumatra. Siber Indonesia Media Union (SMSI) as an organization that accommodates online media companies will be involved in HPN 2018. The existence of SMSI was welcomed by the Governor of West Sumatra Irwan Prayitno.
SMSI Chairman of West Sumatra, after meeting Aziz Yal West Sumatra Governor Irwan Prayitno, Saturday (17/06/2017) then revealed, SMSI given the task of Responsible HPN 2018 also Chairman of the Indonesian Journalists Association (PWI) Margiono to organize two events in the arena of HPN 2018.
The first event is the Digital Media Week Exhibition and both activities, meetings Akbar Indonesian Student Press is performed in conjunction with a cruise using KRI from Tanjung Priok to Teluk Bayur.
Related Meetings Akbar Indonesian Student Press SMSI Jakarta will be tasked with coordinating about 300 student / student and scouts because they are also active in social media will be departed from Jakarta through the Navy's warships.
"In HPN in West Sumatra next year there will be Digital Media Week event, where in addition to online media in it, will also involve the campus press and we will coordinate about 300 students / Owned by the Navy," said Nandi Nanti, Daily Chief of SMSI of DKI Jakarta Province when contacted by media crew in Jakarta, Sunday (23/7 / 2017_
Currently registered students who will come from the President University, LSPR Jakarta, UBK Jakarta, UIN Jakarta, UNJ and some public and private campus in Jakarta.
Nandi hopes with the involvement of young children, students, the media industry in general and online media in particular will be more qualified and become a competent channel. In addition Nandi added, this is also a form of education from the form of great vision and devotion to the government and society.
Work program
Talking about the work program of SMSI DKI Jakarta, Nandi explained that in the first National Congress of SMSI in Surabaya later, SMSI DKI Jakarta will finalize the organization's programs in the future, among them focus on increasing the membership of SMSI DKI Jakarta, membership and candidate membership verification and administrative admission organization.
This SMSI I Rakernas event will be held on 26-27 July 2017 at Hotel Harris Gubeng Surabaya. Chairman of SMSI East Java Eko Pamuji, said that all the preparations have been done with the maximum, because this event presents a number of important figures.
"Besides the Press Council and PWI, we also invited a number of other important figures such as Pak Dahlan Iskan, and for our government also invited the Ministry of Communication and Informatics, Provincial Forpimda and Surabaya City Forpimda," he said.
To note, siber media is a form of the development of information and communication technology that has now changed the landscape of public spaces around the world, not least in Indonesia. The individual is no longer a passive audience. With wide access to the virtual world, every individual can also be an information producer.