Ministry of Communications and Informatics: Indonesia Emergency News Hoax
By : Ridwan And Aldo Bella Putra | Friday, November 03 2017 - 18:00 IWST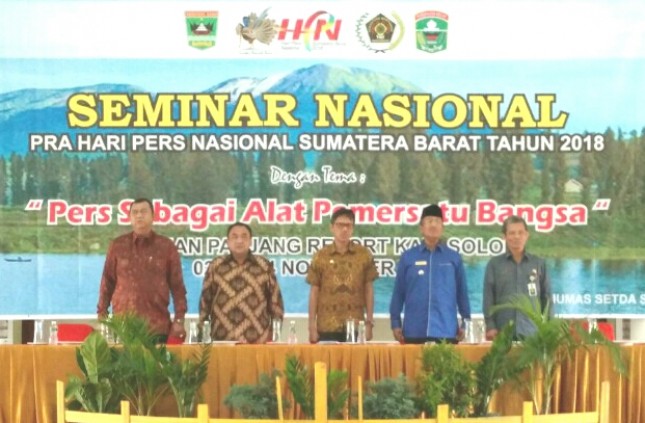 Seminar Nasional Pra Hari Pers Nasional Sumatera Barat 2018
INDUSTRY.co.id - Solok, Indonesia is in a state of emergency news hoax or news that is not guaranteed the truth. This phenomenon accompanies the interaction of Indonesian society in cyberspace that is increasingly high day.
This was conveyed among others by the Expert Staff of the Minister of Communication and Information, Gun Gun Siswadi, while speaking at the National Seminar entitled "Press as a National Unifying Tool" at Alahan Panjang Resort, Solok District, Sumatera Barat Barat, Friday (3/11). The seminar was held as an activity towards the 2018 HPN that will be centered in Padang, West Sumatera, in February 2018.
"The latest data we have shows that internet users in Indonesia as much as 132.7 million, with 129.2 million of them are users of social media at the active level," said Gun Gun.
From the many information that develops in cyberspace, it is not the least of which is information that is reasonable to doubt the truth. However, because it does not have the ability to filter the news lie, not infrequently people take it for granted and even spread the false news.
The seminar held by the Public Relations Bureau of West Sumatra Regional Secretariat was attended by Head of Public Relations of the Province of Indonesia, Regional Leadership Forum (Forpimda) of West Sumatera and press people in West Sumatera.
Gun Gun explanation is the Chairman of Persatuan Journalist Indonesia (PWI) Margiono. According to Margiono who is also Chairman of the Central Committee of HPN 2018, the people of Indonesia are in an era where truth and lie increasingly difficult to distinguish.
He said it takes a process that is not short to find the truth of an event. For example, during an assassination, the police establish a person as a suspect. Although there have been specified as a suspect, but the truth-seeking process of the murder was not completed. There is still a need for court proceedings to ascertain the truth of the murder.
The court also, Margiono continued, cannot simply decide the facts in the murder case, as it requires additional information from witnesses and experts who understand the incident in the deepening of the case.
Margiono hopes people will have the will to trace information in order to discover the factual truth of an event. The press, at the same time, is also responsible for providing information that is grounded in factual truth.