Bappenas Assess the Impacts of Economic Digitalization on Employment Opportunities
By : Ridwan And Aldo Bella Putra | Monday, November 13 2017 - 22:00 IWST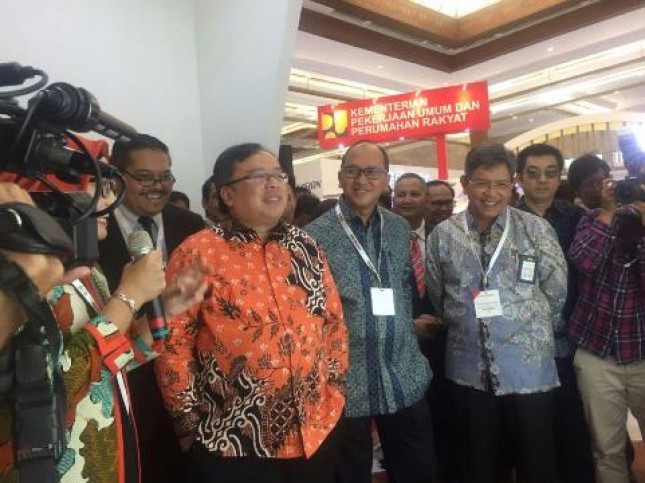 Kepala Bappenas Bambang Brodjonegoro saat membuka Indonesia Infrastructure Week (IIW) 2017 di Jakarta, Rabu (8/11/2017) (Foto Ridwan)
INDUSTRY.co.id - Jakarta - The National Development Planning Agency (Bappenas) is reviewing the impact of economic digitization, one of which is electronic commerce or e-commerce, towards the creation of employment opportunities in the country.
Head of Bappenas Bambang Brodjonegoro said in Jakarta, Monday (11/13/2017) it needs to anticipate the growing e-commerce amid the growing number of population and workforce.
"Currently we at Bappenas are conducting a study of the impact of economic digitization on employment creation We anticipate when we still have unemployment issues at 5.5 percent, later when massive e-commerce era, not only retail but also banks reduce people, then there will be heavy unemployment plus no demographic bonus," Bambang said at Bappenas Building, Jakarta, Monday.
According to Bambang, the challenges that are now facing heavy start considering on one hand the young generation needs a job, but on the one hand there is the era of digitalization. It wants to see the pattern of workforce going forward, whether there is a mismatch between the required skills and the existing labor force.
"The study is still ongoing, but one of the options is that it needs to shift big to the vocation, we are doing the study," said Bambang.
As reported by Antara, the Central Bureau of Statistics (BPS) noted Indonesia's economy by expenditure in quarter III-2017 grew 5.06 percent year-on-year and created additional employment opportunities of 2.61 million.
In the RPJMN 2015-2019, the Open Unemployment Rate (TPT) is targeted to reach 4-5 percent and the creation of employment opportunities of 10 million people. In 2015, the realization of TPT itself reached 6.18 percent, then 5.61 percent in 2016, and in March 2017 reached 5.5 percent.
While the realization of job creation, based on National Labor Force Survey (Sakernas) data as of August 2017, in 2015 0.19 million people, then rose to 3.59 million people in 2016, and 2.61 million people in 2017.
As of August 2017, the labor force totaled 128.06 million people, up 2.09 percent from 125.44 million the previous year. Meanwhile, the number of workers per August 2017 reached 121.02 million people, growing 2.2 percent compared to the previous year of 118.41 million people.
"Growth of employment is better than the growth of the workforce," said Bambang.