President Jokowi Asks North Korea to Adhere to UN Resolution
By : Herry Barus And Aldo Bella Putra | Tuesday, November 14 2017 - 18:30 IWST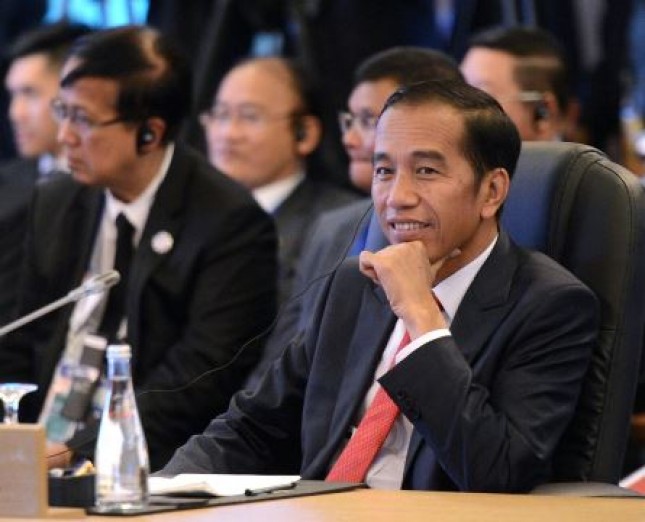 Presiden Jokowi saat mengikuti agenda KTT ke-20 ASEAN-JEPANG di Philippines International Convention Center (PICC), Manila, Filipina, Senin (13/11)
INDUSTRY.co.id - Manila - President RI Joko Widodo, at the Plus Plus Three Summit (ASEAN Summit) one of which discussed the issue of the Korean Peninsula asking North Korea to comply with UN Security Council Resolution for denuclearization activities.
The 20th ASEAN Plus Three (APT) Summit was held at the Philippine International Convention Center (PICC) in Manila, Philippines on Tuesday.
According to President Jokowi, ASEAN Plus Three is a form of cooperation in a very important and strategic area, both in terms of politics and economically.
ASEAN Plus Three (ASEAN + 3) consists of 10 ASEAN member countries plus Japan, China and South Korea.
The 20th ASEAN Plus Three Summit was held on the sidelines of the 31st ASEAN Summit and attended by heads of state / government of ASEAN member countries and Japanese Prime Minister Shinzo Abe, South Korean President Moon Jae-in and Prime Minister of China Li Keqiang.
President Jokowi said that the stability and prosperity of the people in the region will largely depend on how to manage ASEAN Plus Three and relationships among 13 countries.
"In terms of politics and security, we understand that there are vulnerable points of tension, among others in the Korean Peninsula, Indonesia's position and ASEAN's position is very clear on the Korean Peninsula situation," said Jokowi.
For that, President Jokowi insists North Korea needs to immediately stop the trial and comply with all relevant UN Security Council resolutions.
"In terms of economic relations, the strategic value of ASEAN's relations with Japan, South Korea and China is unquestionable," he said.
To further strengthen the economic partnership, ASEAN with Japan, South Korea and China need to conclude soon Regional Comprehensive Economic Partnership (RCEP) negotiations.
In addition, the Indonesian government views the importance of eliminating or reducing trade barriers, both tariff and non-tariff.
"By maintaining the political commitment and economic commitment of APT, we will see East Asia and Southeast Asia that are peaceful and prosperous," said Jokowi.
During the meeting, ASEAN Plus Three leaders will issue two important documents, namely the Manila Declaration on the ASEAN Plus Three's 20th Anniversary of Cooperation and the ASEAN Plus Three ASEAN Leaders' Joint Statement on Food Security Cooperation.
Both documents represent the vision and priority of ASEAN Plus Three (APT) cooperation and the common desire of APT countries for the benefit of the people.
ASEAN Plus Three leaders are eager to achieve the development of a wider community, the East Asian Economic Community, by strengthening the foundation of regional cooperation.
At the summit, ASEAN, Japan, China and South Korea leaders will review the ASEAN Plus Three (APT) cooperation and discuss the future direction of the cooperation in connection with APT's 2018-2022 APT Working Plan recently adopted by APT member countries.
In addition, APT Leaders will also exchange views on several regional and international issues related to trade and investment relations, environment and sustainable development, as well as issues related to community welfare.